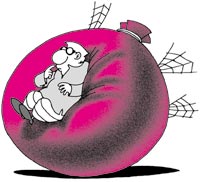 Keshubhai Patel, a former member of parliament (mp) from Gujarat and a veteran leader of the Bharatiya Janata Party (bjp), is known to champion farmers' causes. Yet he didn't spend a single rupee out of the Rs 10 crore he got during the past five years under the mp Local Area Development Scheme (mplads). The new Union minister for railways, Laloo Prasad Yadav, wants the centre to give Bihar a massive development package. But he, too, failed to utilise the mplad money in his previous term as an mp.

In fact, till March 2003, as many as 31 Rajya Sabha mps had not tapped any resources made available under the scheme. Two-thirds of them belonged to the bjp and Congress. These facts have surfaced in a report brought out by the Delhi-based research group, Centre for Budget and Governance Accountability (cbga).

It is the first civil society scrutiny of the scheme. The document deals with mplads' impact on local development, public awareness about the scheme and an institutional mechanism to make spending transparent. The impression that the study conveys is that mplads, with an annual budget of Rs 1,500 crore, is perhaps one of India's most unsuccessful development programmes.

mps of both the houses have spent nearly Rs 10,000 crore since the scheme's launch in 1993, but the gains aren't visible yet. Corruption, greed for electoral gains, delays in project implementation and lack of accountability have made it ineffective, says the report.

The document was released in May 2004, and is based on a survey of constituencies in Orissa, Rajasthan, Uttar Pradesh, Madhya Pradesh, Jharkhand and Gujarat. "The fact that few mps responded to our request for information on the scheme's implementation indicates their level of commitment," says Nesar Ahmed, a researcher for the report. Only 17 mps from the 13th Lok Sabha and 15 from the Rajya Sabha answered cbga's queries.

Ironically, parliament approved mplads on December 23, 1993, because mps kept demanding that they should get funds for developmental work in their constituencies. The government first gave Rs 5 lakh annually to each mp, and later raised the amount to Rs 2 crore. mps are now demanding that they should get at least Rs 4 crore annually.



Fund utilisation by MPs
Range of utilisation
(in per cent)
Number of Lok Sabha MPs
Number of Rajya Sabha MPs
0-20
5
55
20-40
2
19
40-60
36
44
60-80
204
65
80-100
276
53
More than 100
23
9
Note: Figures pertain to the period December 1993 to July 2003
Source: Compiled from information given by the Union ministry of statistics and programme implementation
The report states that Rs 9,780 crore was released under the scheme till July 31, 2002, but only Rs 7,253 crore was spent. Out of the 6.8 lakh works recommended by the then mps, about 4.6 lakh were completed by July 2002. The report says Lok Sabha mps had used only 77 per cent of their total entitlement till 2003. Rajya Sabha mps did worse, spending 54 per cent of allocated funds.

Another worrying trend is that mps use their funds to attract votes. This is clear from the fact that expenditure increased in January this year just before the general elections. The last Lok Sabha's members increased their spending from 77 per cent till July 2003 to 81.29 per cent by January 2004. "This confirms that there is an element of electoral (politics) in (the) expenditure pattern," says the study.

It discovered that mps of regional parties were the biggest users of the funds. "One of the reasons for this could be that mps of such parties, due to their minuscule representation in parliament, cannot mobilise large-scale investment for their constituencies on their own," says the report. Another explanation could be that regional parties' mps know local needs better and can, therefore, utilise the funds aptly.

It was also found that mps from small states were big spenders of funds. Lok Sabha mps from Mizoram and Meghalaya have been the highest users of mplads funds, whereas mps from West Bengal and Jammu and Kashmir were poor spenders. Around 50 per cent of the mps who did not use mplads funds at all were either from the bjp or the National Democratic Alliance, of which the party is a major constituent. Another 17 per cent of such mps were from the Congress and its allies, around 20 per cent were from other political parties and around 13 per cent of them were either Independents or nominated.

Government agencies have often noticed irregularities in the scheme. In 2000, the Planning Commission found that overemphasis on electoral gains had led to the construction of bad roads and bridges. In 2001, the Comptroller and Auditor General could obtain utilisation certificates for only 29.78 per cent of all works under the scheme.