Short term plans, long term disasters
Short term plans, long term disasters
Additional image::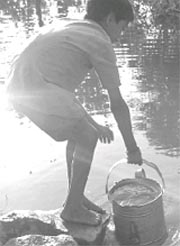 The government of Gujarat has launched a project worth Rs 70 crore to dig 120 bores in the Wankaner taluka of Rajkot district to supply drinking water to Rajkot city. At present, the city is supplied water for 20 miniutes every two days. According to P V Trivedi, district magistrate of Rajkot, the project is part of a 'short-term' policy. But there is great resistance to it among political circles.

Digvijay Singh Zala of the Congress party, who was deputy minister environment in the Union cabinet from 1982 to 1985, has filed a case in the Ahmedabad High Court against the plan, saying it will have a negative impact on the ecology of the region. The area is one of the few patches where underground aquifers still have water. Zala fears the groundwater would be depleted even in this region if the plan goes through. However, Trivedi says that this is a forest area and there would be a natural recharge of the groundwater.According to a senior district official, the plan was laid down even before a proper study was conducted. It was made just on conventional grounds that there is potable water available at 61 metres.

Narottam Patel, irrigation minister of Gujarat, was quoted in some local newspapers as saying: "We have to provide drinking water to Rajkot at any cost. We will also face the case in the court but we will provide the water. We should not discuss ecological concerns at this moment because water is important for people at the present. This is the priority for my government."

"The only live source of drinking water from Rajkot to Junagarh is the Bhadar River and the Phofal dam. As we are drawing water from the Phofal dam for four cities, including Dhoraji, we cannot draw more water for Rajkot. Otherwise, the dam will dry up in another two months. So, we required some solution to meet the drinking water crisis till the next monsoon," says Trivedi.