Additional image::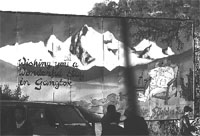 Unplanned domestic - rather than international - tourism is largely to blame for degradation of the environment, as the case of Sikkim shows. According to observers, while foreign tourists - accounting for only 6-7 per cent of the arrivals - are usually highly environmentally conscious, domestic tourists behave irresponsibly. They invade ecologically fragile areas like the alpine grasslands, trample on plants and uproot them, and leave a trail of destruction.

Trek tourism in Sikkim has increased, but trekkers arrive ill-equipped. They chop trees for fuelwood, and leave charcoal, non-biodegradable waste and litter behind. Infrastructure for tourism has also consumed Sikkim's forests. Says S C Rai of the Sikkim unit of the G B Pant Institute of Himalayan Environment and Development (GBPIHED): "A primary survey has shown that fuelwood consumed by hotels and lodges is about 40 kg per day.When the High Mountaineering Institute runs its courses, average consumption of fuelwood is as high as 240 kg for each group."

However, it is not merely the amount of wood consumed that has affected the forests. "The choice of fuelwood used has changed from 'katus' (Castanopsis spp.) and 'phalant' or oak (Quercus spp.) to 'utish' (Alnus nepalensis) and 'mahuwa' (Engelhardtia spicata) and shrubs. At Dzongri, even rhododendron bushes have been cut for firewood," says R C Sundriyal of the GBPIHED.

Though the government has restricted felling of trees for construction of hotels and lodges (a double-storied lodge needs about 600-700 cubic feet of wood), a lot of timber is still being used up. Felling of trees has changed the forest composition and density. At Tshoka on the Yuksom-Dzongri route and in the Chungthang-Lachung-Yumthang area depletion of fir trees has accelerated erosion. With growth in trek tourism, use of pack animals like the yak has also increased. This has put further pressure on the forests along the trails for fodder. A yak, for instance, requires 30 kg of fodder per day. The Sikkim government has only recently woken up to the importance of educating tourists and tour operators, and joint forestry management.