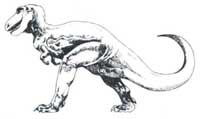 ONE of the hottest debates in palaeontology is whether dinosaurs were warm-blooded like humans or cold-blooded like reptiles. Scientific opinion has so far favoured the latter view, but 2 researchers claim they found a 67-million-year-old Tyrannosaurus rex fossil to be remarkably warm (Science, Vol 265, No 5169).

The "thermometer" used by palaeontologist Reese E Barrick and geochemist William J Showers from North Carolina State University was the proportion of oxygen-16 and oxygen-18 isotopes in the bones of the ferocious dinosaur. The ratio of the 2 isotopes within the bony tissues changes with temperature: there is relatively more oxygen-18 when it's colder. These isotopes get into the bones from the surrounding body fluids.

Barrick and Showers reasoned that the isotopic proportions in bones in different parts of the dinosaur's body could serve as a gauge of the temperature of various body parts. Their analysis showed that the beast's temperature was stable and uniform throughout. "Tyrannosaurus rex was maintaining a body temperature in its core and extremities that varied by 4oC or less, which means it was warm-blooded," says Barrick.

Barrick and Showers tested their technique on a cow and a Komodo dragon, a large lizard found in Indonesia. They found little disparity between the temperatures of the cow's leg and rib bones, whereas the Komodo dragon's tail bones were up to 9oC cooler than its ribs.

However, Showers and Barrick's work doesn't have many takers. Most still consider dinosaurs to be reptiles and even those who favour warm-blooded behemoths admit the isotopic evidence is far from unequivocal.

The problem, says Yale University's John Ostrum, is that the isotope ratio can altered during the mineralisation that changes bone into fossil. But the researchers argue that the T rex's internal bones show little fossilisation.