Chemicals flow free in Gujarat
Chemicals flow free in Gujarat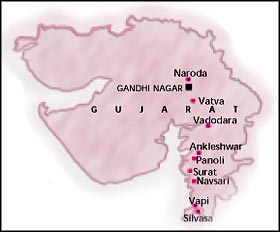 a threat of severe chemical contamination hovers over Gujarat, which is suffering a major flood this year. Lack of industrial planning and infrastructure is blamed for the mix of dangerous chemicals with water in many parts of the state. The government has also been charged with inadequate preparedness.

"The state government kept on talking about drought but never realised that the monsoon was not yet over. It did not consider flood a possibility, though it has often occurred in the past,' said a government official who did not want to be named. Twelve out of 25 districts in the state have been hit by the flood. The affected industrial zones are Ankleshwar, Vadodara, Surat, Vapi, Navsari, Silvasa, Panoli, Naroda and Vatva, according to the Gujarat State Disaster Management Authority (gsdma). Initial damages to factories in the Golden Corridor industrial belt in south Gujarat has been pegged at Rs 1,800 crore. This belt runs through cities like Surat, Navsari, Vapi and Bharuch.

Ankleshwar is the worst hit. More than 200 chemicals-based units here were immersed in waist-deep water. Local activists fear the chemicals that got mixed with this water would increase groundwater and soil contamination in the area, which is already a high toxic zone. Almost a week after water logging, factories were still seen releasing polluted water in the open.

"We suffered huge losses and damage. Water washed away our raw materials and damaged finished products,' officials of Ankleshwar Industrial Association (aia) lament. But when questioned about damages to the environment, P R Shungunan, executive secretary of aia, was defensive: "Why are you people concerned just about the environment? What about our losses?' B S Patel, president, Panoli Industrial Association, was more forthcoming. He admitted that the effluent pumping station at Panoli was damaged and had to be closed for six days and the common treatment plant was also shut down. "Some mix up must have taken place. But it would not affect the environment as the quantity of water was so large that it diluted all the effluents and carried them out to the sea,' he reasons. He also concedes that cans of chemicals and gas cylinders were drained into the water. "But they were sealed,' he adds.

Rohit Prajapati, an environmental activist in Vadodara, points out that the effluents from factories in Ankleshwar and Vadodara would also contaminate the Gulf of Cambay. Prajapati, along with local residents and other green activists, alleges that factories store hazardous materials to dump them in the open during the monsoon. The Gujarat Pollution Control Board (gpcb) refused to comment on the matter. But gpcb insiders say four teams have been dispatched to ensure that factories don't misuse the rainy season to dump hazardous waste.

Experts hold faulty urban and industrial planning responsible for the situation. Shivanand Swami, director, Centre for Environmental Planning and Technology (cept), says the topography of the region has not been considered in the land use planning. Water management and flood control exercise in the state are also highly inadequate. The Golden Corridor receives the highest rainfall in the state and often faces flood-like situation. But its industries are not equipped to deal with it. Utpal Sharma, professor at cept, says most factories there don't have effluent treatment plants and the infrastructure to divert rainwater. While industry blames the government for lack of infrastructure, government officials say the onus should be on the industrialists. "They have to do it because they are the users,' says an official of Gujarat Industrial Development Corporation (gidc), Gandhinagar.

Gujarat's water resource minister, Narottam Patel, rejects allegations of deficient infrastructure. "On what ground can it be claimed that the state does not have the right infrastructure and its planning policy is flawed? Gujarat is one of the most industrialised states in the country,' is his argument. He also summarily dismisses any possible chemical contamination. "Whatever little chemicals might have mixed up with the water would have got diluted and washed off into the sea,' he says.