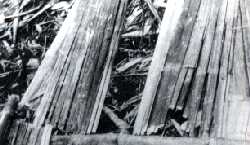 the Viviendas del Hogar de Cristo (Christ's home dwellings, or chd ) housing project in Ecuador is a housing development organisation with a difference: it builds homes from locally-produced bamboo panels as a solution to the dreadful housing conditions of poor people living in Guayaquil. Simple and easy to construct, these houses can be built by the families themselves in one day and cost only one-seventh of that of the cheapest of government-built dwellings. The families benefiting from the project are primarily slumdwellers or the homeless. The project has established an efficient production plant as well to produce the prefabricated bamboo panels.

Ecuador lies on the western coast of South America and has a population of 11 million. Guayaquil is the largest city and the economic capital of the country. Its port and large industrial base regularly attract people and it is estimated that nine per cent of the city's population is homeless.

The chd project, a non-profit, modern and dynamic enterprise, was started by Jesuit priests. Brother Francisco Garcia, a local priest, built the first houses himself. Now, the chd' s production plant covers 7,000 square metres (sq m) and employs more than 50 local people to produce the panels. The plant generates enough panels for building 12 homes a day. The bamboo needed for production of the panels are grown in plantations. It is one of the most productive and efficient enterprises in Ecuador, with the guiding principle being "no family who comes to us and really needs a dwelling will go empty handed". The funding of the project is partly through self-financing efforts and partly dependent on overseas aid.

The design of the houses is based on the use of wood and bamboo - mate-rials that have been used locally for centuries. Bamboo is ideal for Ecuador's humid equatorial climate. Many of the dwellings are built above the ground level, because of the problem of flooding. The foundations are made of piles of wood dug deep into the ground. The walls are made of wooden panels covered with bamboo and the floor is made of wooden boards. The roof is either made of zinc or corrugated iron. Easy instructions are provided for the assembly of a chd home. The residents find the dwellings easy to maintain and can extend or enlarge them if necessary.

The beneficiaries purchase their homes, repaying the cost in 24 monthly instalments, which are each equivalent to 14-24 per cent of the minimum monthly wage. The smallest chd house has an area of 21 sq m and costs us $522, while the largest has an area of 42 sq m and costs us $883. Assistance is given to those who cannot afford the minimal monthly instalments.

chd shows how the poorest of the poor can be helped to help themselves. As the bamboo for construction is grown in sustainable plantations, the work of chd serves to ensure environmental as well as social sustainability.