Dying without killing the skin
Dying without killing the skin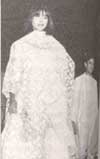 Indian textiles using toxic dyes will be banned in Germany from July 1. Indian exporters, already struggling to adjust to 'environment friendly' production norms of the West, will have to juggle themselves afresh to tackle the German ban on azodyestuff. These have been found to release harmful amines which cause skin diseases.

Apparel exports to Germany have been rising fast in the past few years and are expected to be over Rs 1500 crore this year. Although a representative of the Apparel Export Promotion Council (AEPC) hoped that "the industry will not lose much due to this," the ban comes as a surprise to Indian garment exporters who had been recently assured by a visiting German delegation that any such a step would only take effect from next year.

Though the AEPC says that it has been educating exporters about the need to avoid use of such problematic dyestuffs, the ban will certainly give manufacturers a hard time before exports resume.