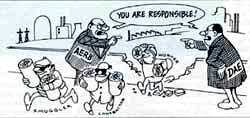 FOLLOWING the detection of organised smuggling of semi-processed uranium in Meghalaya, the Atomic Energy Regulatory Board (AERB) has directed the Department of Atomic Energy (DAE) to review security arrangements in all nuclear installations in India.

The alarm bells were sounded after 2.5 kg of semi-processed uranium were recovered in mid-October from a 4-member gang of smugglers in Domiasiat village in West Khasi Hills of Meghalaya - the site of an uranium mining and processing plant of the Atomic Minerals Division (AMD) of the DAE. The smugglers reportedly had links abroad and 'confessed to possessing about 95 kg of the lethal material.

The AMD claims that about 405 kg of the uranium mined from the Meghalaya site bad been shifted out to its Shillong headquarters in May and was kept under tight security. But industry experts aver the DAE should have imposed more stringent security measures to prevent any diversion of the sensitive material.

Security matters relating to nuclear establishments are primarily the responsibility of the DAE, while the AERB, a watchdog agency set up in 1983 to monitor safety aspects of nuclear industry, only issues warnings relating to lapses of security which could lead to public safety concerns.

This brings into focus the whole question of safety in the nuclear industry, as fissile material could also be lost, stolen or misplaced from a large ber of industrial, medical and establishments which 'utilise material.

Dhirendra Sharma, convener of the Delhi-based Committee for a Nuclear Policy, contends that security and surveillance in and nuclear establishments in India is "theft of material by unkilled workers, contractors involved in construction or transportation is rampant".

Sharma feels that issue of nuclear safety cannot be addressed in an adequate and responsible manner if the AERB is not made independent of Atomic Energy Commission which it reports to at present. He suggests the board should be independent of the nuclear establishment and should report directly to the prime minister or the Parliament, and given adequate staff to enable it to closely monitor the working of the nuclear industry.