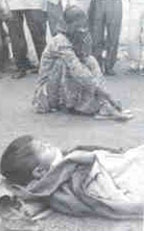 IN THE closing days of last year, the ministry of health (MoH) did an acrobatic loop on the issue of national health management. A circular issued on December 28, 1994, now requires the ministerial vetting of all developmental projects with environmental, and hence health, implications. This is part of the ministry's new, comprehensive health management policy.

The ministry has cleared proposals for setting up a computerised surveillance network to monitor epidemics in the country. A 1st-phase budget of Rs 95 crore has been submitted to the Planning Commission. The National Institute of Communicable Diseases (NICD) will be the nodal agency. The entire project will cost Rs 250 crore.

The contention that the plague epidemic could have been averted if the MoH had kept a check on projects like the Indira Gandhi Canal has been taken seriously. Henceforth, the MoH, like the environment ministry, will monitor projects from the time they are conceived.

Seven central organisations charted out the policy after months of procrastination. Preventing epidemics and combating chemical disaster exigencies are thrust areas in the policy. But even droughts and cyclones, being cyclic in nature, will come under the new health policy.

The steps required for this include setting up "poison control cells" in medical colleges and district disease control centres to train primary healthcare workers. Village, district and state level health units will be linked to a central cell.

The policymakers envisage effective health management by orchestrating higher administrative and health personnel, so that district magistrates are sensitised to the overweaning problems of the latter. Disaster management techniques will also be a part of the curriculum of Indian Administrative Service probationers.

The All India Institute of Public Health and Hygiene has prepared a comprehensive draft to train primary health workers, and the National Environmental Engineering and Research Institute will be responsible for producing simple gadgets for air and water sampling.

K K Dutta, director, NICD, had lamented that health services had been reduced to "just fire-fighting measures". The new policy will hopefully change all that.