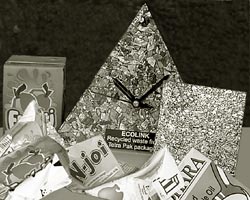 Two companies have developed a novel way of dealing with the menace of tetrapaks: recycling them into boards called Ecolink. Pune-based Tetra Pak India Private Limited (tpil), along with Mumbai-based Deluxe Recycling (India) Private Limited (dripl), have set up India's first tetrapak recycling and board manufacturing plant in Palghar near Mumbai.

The development is being termed as an environmental feat, because tetrapaks are not biodegradable, difficult to recycle and are, therefore, not even collected by rag pickers. This is so because they consist of three layers of packaging comprising of paper, polyethylene and aluminium.

Ecolink consist of 80 per cent paper, 15 per cent polyethylene and five per cent aluminium. The boards are water and sound proof and resistant to termites. They can be used to make furniture, flooring, ceiling and kitchen shelves. "Last year, 250 tonnes of Ecolink was used to construct shelter for Gujarat earthquake victims,' says Jignesh Shah, dripl director.

Company sources claim that the process of making ecolink is simple and requires no extra inputs, such as toxic glue or other binding agents. The raw materials can be sourced from waste of factories manufacturing tetrapaks, process scrap and post-consumption cartons. The boards are prepared by first shredding and then granulating the raw materials. This material is then spread out on a forming sheet where it is pre-pressed for even distribution. Then the material is further hot-pressed and then cold-pressed under high pressure to make semi-finished boards. These are then cut and trimmed into boards of required shape and size.

Whereas recycling of tetrapaks is a step in the right direction, non-governmental organisations assert that the companies should involve more and more rag pickers in their trade.