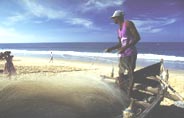 FLY BY GOA - THE CHANGING SHORES . P V Sathe . 30 Minutes . August . 2002 . Price: Rs 500

This gripping film captures the changes that have taken place in Goa in the last 30 years in just 30 minutes. Says its director PV Sathe, "It seeks to take you on a trip along the Goan coast and show what it looked liked in 1971 and how it looks today." Sathe is a scientist with Goa-based National Institute of Oceanography (NIO) and he has used high-tech satellite imagery.

Over the years, Goan landscape has altered alarmingly. The once-picturesque state is today reeling under tourism overload, unplanned commercialisation and urban sprawl. These are brought out in Sathe's film. What finally emerges is the lopsided development that mars the coastal topography of India's smallest state.

Sathe travelled extensively to shoot the film. He journeyed and found how the river Talpona's shoreline has "changed significantly", having progressed seawards. How Palolem, once famous for its sand-dunes, has been invaded by tourists. In Cavelossim village, the video catches a mechanised shovel scoop out sand-dunes to be taken to waiting trucks. One small lagoon on Colva beach, launched amidst much fanfare in the 1970s at Colva, is today treated as virtually a dumping site. Fatorda, a small village of the 1970s, is now visibly "changed" when viewed from the sky, due to its high-profile football stadium.

The video explains why mangroves have a major role in protecting coastal zones. Satellite pictures from the 'eye in the sky' clearly reveal how one-time villages such as Porvorim have changed with "innumerable" housing complexes over the last 20 years. In the 1970s, the north Goa beach belt was marked by wide open spaces up to 500 metres from the high-tide level, even though there was no law then mandating this.

It took Sathe a year to put together this video "mainly because of the shooting". He had to go with a videographer, to get just the shots needed to tell the story - for instance, sand blowing in the face of passersby at the Miramar circle, an area which has been wrongly sited on the beachfront.

"Changes are not over yet. They're taking place in broad day-light," adds the video commentary. It shows shots of luxury hotels being built in coastal Salcete, as precious sand-dunes are demolished.

Sathe can be contacted via email at sathe@darya.nio.org.