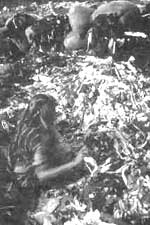 FOR Santram Dikshit, a paper technologist at the Jan Sewa Ashram, a non-governmental organisation (NGO) near Solan, Himachal Pradesh, even trash is a valued resource and a business opportunity. Today, his organisation is engaged in using discarded plastic bags for manufacturing carpets. About 1.5 kg of plastic is required for making a 2.52-square metre carpet.

First, the plastic bags are washed, cut into strips and then woven with colourful cotton thread on a loom. Normally, one carpet costs around Rs 300. But the cost may vary according to the design, size and labour that are needed for the production. Apart from carpet, the organisation also makes table mats, shopping bags, colourful cushions made from bits of old cloth and baskets.

It is easy to maintain the plastic floor mats as these can even be washed with detergents. Moreover, a plastic floor mat is lighter than a cotton mat.

All these products are manufactured in the Jan Sewa Ashram's factory in Parwanoo, Himachal Pradesh. In this factory, about 43 workers are engaged in collecting discarded plastic bags, weaving and packaging of carpets.

Today, disposal of plastics is a major problem as these materials are not biodegradable. According to Dikshit, plastics bags pose serious problems in the hills because these stop rainwater from seeping into the earth and are one of the reasons for soil erosion and landslides.

Apart from manufacturing these products, the NGO is also involved in creating awareness about the hazards of plastics. It has launched an initiative to encourage people to minimise the use of such materials. The NGO also collects waste paper and recycles it.