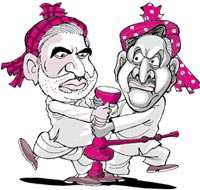 the Union minister for panchayati raj, Mani Shankar Aiyar, is a worried man. Even before he could select his personal staff and a place for the newly created ministry of panchayati raj affairs (mopra), questions are being raised about the efficacy of carving out this section from the Union ministry of rural development (mord). And the first objection has come from none other than the Union minister for rural development Raghuvansh Prasad Yadav. Various civil society groups and senior officials in charge of panchayati raj institutions (pris) in states have also expressed doubts about the decision.

The new ministry's modalities have not been worked out and its functions are yet to be defined. According to sources in mord, these will only be known after the Union budget is tabled. But Yadav told Down To Earth on June 18 that the decision to form mopra was "ridiculous and unbearable, and was not going to help in rural development'. He explained: "Rural development programmes are being implemented through panchayati raj bodies. Without these bodies under mord, I don't think there would be effective implementation of these programmes.'

Many bodies and officials in charge of pris feel that instead of creating the new ministry, mord should have been renamed as mopra or the local governance ministry. " mord should have been brought under mopra,' says P Kamal Kutty, secretary, local self-government ministry, Kerala. Aiyar, while speaking at a seminar on decentralisation in Kerala, held in New Delhi recently, favoured the creation of his ministry, saying: "I am happy about the decision and it gives the right message for decentralisation under the new government.'

The mord, with an annual budget of about Rs 32,000 crore, funds all rural development and poverty alleviation programmes. But the panchayats, which implement all these programmes, will be controlled by mopra. "This may lead to further administrative snags in implementation,' warns Subhash Mendhapurkar, a Himachal Pradesh-based expert on pris. But Aiyar disagrees. "I admit there is no money in my ministry and we are the smallest ministry with a staff of just four people. But we can still do much,' he avers. mopra has Rs 100 crore as working capital and just the village panchayats under its purview.

Prime Minister Manmohan Singh is to soon meet chief ministers and rural development ministers of states. They would discuss, among other things, constitutional amendments to credit funds directly from the Union government to pris and make gram sabhas the nodal village decision-making bodies. If these amendments are brought about, the tussle between the two ministries might intensify further.