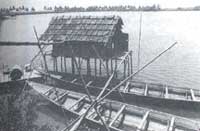 CALCUTTA is famed worldwide for its sewage fisheries -- wetlands that use industrial and domestic sewage for fish cultivation. But the Mudially Fishermen's Cooperative Society needed a helping hand from the court to protect a fish farm on land leased from the Calcutta Port Trust (CPT), which wanted to revoke the lease because the licence fee of Rs 88,000 had not been paid. The court ordered the police not to alter the status quo pending further orders.

The eco-park cleans up 23 million tonnes of sewage discharged daily by industries and residential areas nearby. The sewage is cycled through three tanks from which clean water flows into the Ganga. The society harvests 280 tonnes of fish a year in the 85-hectare park, which is also visited by 120 varieties of birds every year. This method of naturally cleaning up the effluents has been going on since the early 1960s.

CPT apparently is strapped for funds and its chairperson A C Ray says interest payments of Rs 50 crore are made each year, on a loan of Rs 500 crore taken for the development of Haldia port, whose annual income is only Rs 100 crore. CPT hopes to earn another Rs 500 crore by putting to commercial use its surplus land in Calcutta.