Additional image::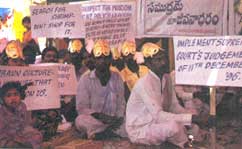 February 13, 1996: SC orders the closure of five chemical units producing H-acid, a chemical whose production processes have been banned in the West in Bichhri, Rajasthan.

April 18, 1996: Setting aside a Central notification which had permitted development activity within 200 metres (m) of a beach, the SC bans construction within 500 m of the high-water mark along the coast.

May 6, 1996: The court passes strictures - and orders probe an Kamal Nath for causing ecological Imbalances in Himachal Pradesh, whom a motel owned by family members of the former minister for environment is alleged to have diverted the Beas.

May 10, 1996: SC bans mining activities within a two-km radius and all building activities within a five-km radius, of Surajkund and Badcal lakes in Haryana.

July 8, 1996: SC orders closure of 168 Delhi-based Industries by November 30,1996, and directs the chief secretary to fix responsibility on government officials who had been negligent in their duty.

August 6, 1996:The court orders closure of 69 foundries in Howrah following their failure to install pollution control devices.

August 28, 1996: On the basis of a petition from the Vellore Citizens Welfare Forum, the SC imposes fines of Its 10,000 on each of the 700-odd tanneries In Tamil Nadu, and asks them to pay compensation for polluting the environment the tanneries are also asked to install pollution treatment plants before December.

October 6, 1996: SC directs another 513 industries out of Delhi for having damaged the health of Delhi's citizens.

October 9, 1996: SC orders closure of 39,000 illegal Industrial units operating in residential areas in Delhi.

December 10, 1996: The court bans child labour in hazardous industries.

December 11, 1996: The court orders closure of aquaculture farms within 500 metres of the coast along India's 6,000 Ion coastline by March 31, 1997; it also directs that employees of the farms be paid six years' compensation in lieu of loss of employment.

December 17, 1996: SC bans all non-forest activity in forest areas without prior approval of the Centre; it also bans the movement of cut trees and timber from the northeastern states.

December 19, 1996: SC directs shifting of 550 tanneries located in east Calcutta by September 30, 1997. and the setting up of an environment pollution fund, with each unit depositing Its 10,000 as fine. this money is to be used for restoring the pollutant-riddled Hooghly.

December 30, 1996: The court fixes December 31, 1997, as cut-off date for closure of 292 coke-coal-based industries within the Tej trapezium (Agra), directing stoppage of coal supplies to them from April 30.