Additional image::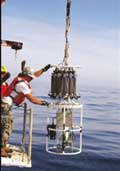 The environment ministry of China recently ordered the cleanup of 20 chemical and petrochemical units that a study found were a threat to the country's waterways and environment due to poor planning and a lack of waste-treatment facilities.

The State Environmental Protection Administration (sepa) said that 12 of the 20 projects inspected were located along China's two main rivers, the Hwang-ho and Yangtze, and had "serious hidden dangers.

The projects included oil refining, ethylene and methanol factories, involving us $7.6 billion in investments. The government also ordered the plants to take immediate action and has allocated us $202 million to fund improvements.

sepa inspected more than 100 sites, which was prompted by an explosion at a chemical plant in November 2005 that poured benzene compounds into the Songhua river, poisoning the source of drinking water for millions.

sepa also decided to stop or postpone approval for projects at 44 sites (valued at us $18.7 billion) because their locations were considered unsafe.