Additional image::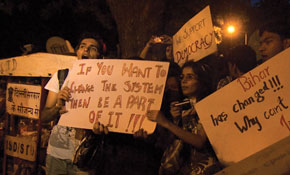 Government and non-government groups have not always been on the best of terms
and this relationship has been redefined over the years with changing social and political
scenario. The showdown over the Lokpal bill marks a new low. Read this analysis by
Down to Earth.
Arguably, this is the hottest political summer for Delhi. Reason: friction between anti-corruption activists and the Union government over the anti-graft Lokpal Bill. It has been more than three months, but there is no sign of ebb in the confrontation. Rather, it has metamorphosed into an all-out war between the government and non- government groups. The polarisation is getting sharper. Most political parties have joined hands with the ruling alliance to oppose the "legitimacy" of non- government groups in taking part in legislative affairs. The confrontation has left many questions in its trail.