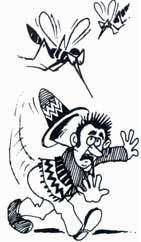 Planet earth's unhappy rendezvous with deadly viruses contin- ues unabated: this time it is the mosquito-borne dengue. The outbreak has occured in Central America and Mexico's southern states.

Dengue is caused by 4 viruses spread largely by the JAedes aegypti mosquito. "It's becoming endemic to many areas in the American trop- ics," said Dan Epstein of the Pan American Health Organisation.

Government officials have reported 20,000 cases of classic dengue this year in Costa Rica, 15,000 in Honduras and about 6,000 each in El Salvador and Nicaragua. Guatemala has reported 1,600 cases and Panama 190. Irregular settle- ments and unrestrained pop- ulation movement is respon- sible for the spread of this disease, say health experts.