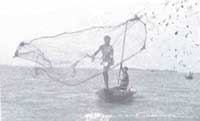 Chief minister Biju Patnaik's attempt to wriggle off the Chilika prawn project hook has left him impaled even more firmly. The onus of proving the Chilika Aquatic Farm Ltd (CAFL) project is environmentally safe has fallen on his government following a state high court order that Orissa officials must conduct an ecological impact report. Patnaik had asserted recently that CAFL is a government company in which the Tatas have only a "minor" share and function primarily as technical consultants.

The high court ruling is in response to writ petitions challenging the state's leasing of fisheries in Chilika to non-fisherfolk for prawn cultivation. The court has imposed an interim stay order on the policy and indicted the government of "tilting" toward non-fisherfolk in pursuit of higher revenue. A high court panel is to be formed to review the impact of prawn cultivation in the Chilika area and to determine the rights of non-fisherfolk.

A few days earlier, the Union ministry of environment and forests rejected an environmental impact assessment (EIA) report submitted by the Central Water and Power Consultancy Services and directed the state government to form a multi-disciplinary group to undertake another EIA study.