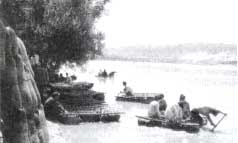 The 5,462 km-long Yellow River, also known as 'China's sorrow', for its disastrous floods over the centuries, is drying up. The second largest river of the country, Hwang Ho has become the victim of excessive water use and pollution. To save the river, a group of Chinese conservationists, the Yellow River Conservancy Commission, is drafting the nation's first river protection law in an attempt to bring the river back to life. The draft would increase central government control over water allocation from the river and substantially raise the price of water. Also, those found guilty of polluting the river will be penalised. According to the deputy director of the commission, Chen Xiaoguo, the draft has received full backing of the Chinese National People's Congress. The draft is expected to go the ruling state council for review by the year 2000.

In 1972, the Yellow River failed to reach the sea for the first time, and since 1985, it has run dry every year. Despite devastating summer floods this year in central and northern China, the drought in rest of the country lasted 133 days. World Bank water experts believe that the water shortage is a far bigger threat in the long-run than the summer floods, which killed more than 3,600 people, besides causing US $30 billion of direct economic losses. A report by the Chinese Academy of Sciences attributed the problem to inadequate water resources and sharp increase in water consumption fuelled by low prices and population growth. Lack of unified water management and irrigation system were also held responsible for the crisis.

According to Liu Changming, a water resources expert, of more than 30 billion cubic metre of Yellow River water consumed each year, 92 per cent is directed towards irrigation. Of this, only 30 per cent reaches the end crops, the rest is wasted.

The history of the torments of the river has been meticulously documented since the seventh century BC. Flooding along the densely populated lower reaches became so rampant in the 17th and the 18th century that the Qing dynasty emperor had to create a high ranking cabinet post to tackle the problem. Over us $50 billion have been invested by the government since 1949 to build eight dams and numerous dykes to control the river.