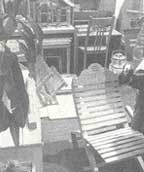 A significant provision for forests in this year's Union budget may turn out to be a case of missing the forest for the trees. Motivated by a desire to "protect the environment and to save wood," Singh cut the excise duty on plywood from 34.5 per cent to 20 per cent. But ecologists and timber experts warn the measure will result in an increase in consumption of plywood, which is made from solid timber or, in industry jargon, prime wood.

Understandably, the loudest complaints are from manufacturers of medium density fibre (MDF) boards that are made from lops and tops of trees, from sawdust and from agricultural waste. MDF manufacturers label their products as environment friendly, but moan they don't receive any benefit from Singh's largesse as plywood is already only marginally costlier than MDF boards.

Says N S Loomba, general manager (marketing) of Nuchem Ltd, is "The excise policy is a clear indication that the government is committed to promote the use of plywood." And bearing him out, sources in the Central Public Works Department (CPWD), the nation's largest civic construction agency, say it is proposing to modify its much acclaimed ban, beginning this month, on the use of timber in its projects and allow the use of plywood.