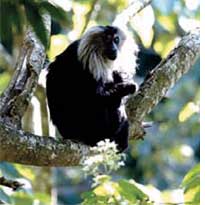 N P Jayan says he feels inspired by the Silent Valley in Kerala. A photojournalist for many years, Jayan embarked upon documenting the flora and fauna of this rain forest in late 2006. It was a year long mission that yielded numerous surprises and amazing visuals. Sometimes the surprise came in the form of a whistling thrush which felt obliged to bathe in front of Jayan's camera. A herd of elephants would pass by nonchalantly while the cameraman was busy clicking.

Silent Valley is known for the lion-tailed macaque that's facing extinction. Jayan's sojourn in the valley saw him taking many pictures of these creatures. Many of them were at show at an exhibition organized in Delhi from April 28-May 2.

Jayan says the main objective of the project is to document the rich natural heritage of Silent Valley. It is also a silent campaign against any human activity there, he says.