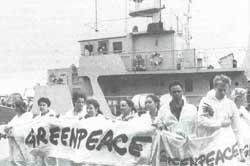 INDOMITABLE France lit the fuse again. Barely a month after the Big 5 nuclear nations made a solemn pledge at New York, during the Nuclear Non-Proliferation Treaty (npt) Conference, to exercise "utmost restraint", France reneged and flexed its muscles. The newly-elected French President, Jacques Chirac, has announced his decision to resume nuclear weapons testing this September, and to conduct 8 explosions at the already test-battered Mururoa and Fangataufa atolls in Polynesia in the South Pacific. Chirac's hawkish Gaullist government has thus abandoned the "unofficial" but officially-accepted moratorium on nuclear testing that has been renewed every year since it was initiated in 1992 by the erstwhile Mitterrand regime.

Seasoned observers had virtually predicted France's recalcitrance. "The French have always been fiercely independent about their defence policies," says Savita Pande, research officer at Delhi's Institute for Defence Studies and Analyses (idsa). "They envisaged nuclear weapons not only as a means of re-establishing France's prestige and status in Europe and the world, but also as a symbol of the nation's independence from both allies and enemies alike."
Power hunger The growing economic prowess of its next-door neighbour, Germany, has only whetted France's appetite for power. The French foreign minister, Herve de Charette, when hit with a barrage of criticisms from international environmental groups, truculently declared, "France cannot hand control over its own security to any third party."

The French have, in fact, been claiming that this decision would only help to strengthen their commitment to the Comprehensive Test Ban Treaty (ctbt), scheduled to be completed by end 1996. At a speech where he trashed the moratorium, President Chirac said that the tests were a "national prerequisite to signing the ctbt".

His insistence that the tests will enable French scientists to shift their nuclear R&D programmes into laboratories is a political paradox begging to be countered: he said that in labs, computers and lasers are used to simulate nuclear explosions; and that this programme, to be located in a laser facility under construction near Bordeaux in the south of France, will be reliable only if France's current warheads for nuclear submarines and long-range missiles are tested now to provide benchmarks for the future. French officials vehemently deny the allegations that the tests will be used to develop new weapons, including smaller, more mobile warheads. An assurance came from President Chirac who said that that he had consulted civilian and military experts who believe that the tests will not harm the environment.

But the reaction from Down Under is raging and vitriolic. "It is Napoleonic, de Gaulle arrogance," spluttered New Zealand's foreign minister Don McKinnon, speaking on behalf of the 15-nation South Pacific Forum. The Forum holds that using another continent for such experiments betrays typical colonial nonchalance. They refuse to accept the "conditions of absolute security" which France is vociferously guaranteeing. The argument didn't wash: the Forum argues that if they are so safe, the tests might as well be carried out on the French mainland in its laboratories. Adding colour and spice to their campaign is Greenpeace International. Riding high on their recent triumph over the petroleum giant Shell, which scuttled plans to sink an oil rig in the Atlantic, following a massive consumer boycott movement whipped up by them, Greenpeace activists are now gearing up to counter France's move. A decade ago, in July 1985, the French security service sank Rainbow Warrior i, a Greenpeace vessel in Auckland harbour, killing one. The operation, badly botched up by French agents, embarrassed the French government. Greenpeace now has created another sensation by announcing the departure of its new flagship Rainbow Warrior ii to Mururoa atoll to stop France from "messing up" the continent.

Meanwhile, anti-French sentiments have reached a climax in Australia, the entire South Pacific region, and even in France. in Australia, the French Consul General's office was set ablaze in Perth on June 17, apparently by an unknown group named the Pacific Popular Front. Trade unions, the media and television entertainers in Australia and New Zealand are lambasting Chirac and urging consumers to boycott French cars, perfumes, wine and food, drawing a positive response by almost 80 per cent of the population, according to a recent survey. The Australian cabinet met on June 22 to discuss a counter-strategy and decided to recall its ambassador from France and cut off all mutual defence contracts. "We are determined to do everything we possibly and reasonably can do to ensure that France understands the nature and extent of Australian and South Pacific opposition," raged Australian prime minister Paul Keating. He has threatened to take the issue directly to the French electorate along with his South Pacific neighbours.

In 1973, too, Australia and New Zealand had filed a protest with the International Court of Justice to stop France from conducting atmospheric tests at Mururoa. Then the South Pacific was still dotted with colonies ruled by Britain, Australia, New Zealand, and France. Now the only colonies left are French: New Caledonia and French Polynesia. The independent nation states -- all part of the South Pacific Forum -- are loathe to put up with any of France's colonial tantrums. In 1985, the Forum adopted the South Pacific Nuclear Free Zone Treaty, banning the stationing, testing or dumping of nuclear material in the region's oceans.

Now with Chirac's explosive announcement, the Forum members are up in arms again. They ostracised France from the Forum. But France doesn't seem likely to buckle. "Ever since France has maintained a complete triad of nuclear forces, insisting on deploying them in an entirely independent mode, it has encountered political and trade-related limitations that a middle ranking power must suffer. So there is no reason why it should be particularly perturbed by these recent threats," Savita Pande contends.

France has anyway, always been one of the most fickle members of the Nuclear Club. Even when Mitterrand imposed the moratoruim on testing, it was "conditional on the restraint of other nuclear powers". The support for resumption of testing in the Conservative Parliament was obvious. In a July 1993 report, the French Parliament's Finance Committee said that additional funds would be needed by 1996 to fully develop simulation techniques. In response to this, Mitterand set up a 7-member committee which submitted its report in October 1993, saying France could refrain from testing till mid-1995, but must resume it after that to "maintain a viable deterrant". "The 1994 White Paper submitted by the French ministry of defence did not mention anything on the issue. It was obviously deferring it, anticipating the imminent departure of Mitterand," said Pande.

The betrayal
The sense of betrayal so keenly felt by the international community stems not only from brash French behaviour, but also from the reaction of the other nuclear shoguns. They have literally poofed away the whole affair. American diplomats said that French tests were a "political price" they should pay for getting Paris on board for the ctbt. The British foreign minister Douglas Hurd even commented brazenly that such issues were strictly France's "domestic business". The only critic was Russia; but that may be due to the fact that Moscow cannot afford to modernise its own nuclear arsenals.

If this was not enough, barely a week after the French decision, the us defence secretary, William Perry announced that the us, too, would like to renew testing which it has foregone since 1992. Later, however, the Clinton administration reversed the decision.

"Such stance of the nuclear powers makes a mockery of the ctbt and the npt," laments Pande. About India's position she says, "We must hold on to our right of self-defence, come what may. In fact we must go a step further and pass a resolution in Parliament declaring that we shall have nothing to do with the ctbt or fissile cuts until and unless we feel confident about our own safety. Our national security is our only concern."