If the burner's too big, make it fit
If the burner's too big, make it fit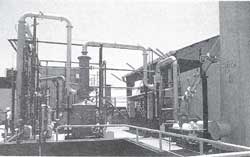 IN DISPOSING of its toxic wastes, the multinational pharmaceutical giant Sandoz has put into practice an ancient truth: fire purifies. In collaboration with the School of Energy at the Tiruchchirappalli-based Bharthidasan University in Tamil Nadu, it has developed a small-scale incinerator called Yagna Mark I, which became operational in April.

Chemical manufacturers in the country generally dump toxic waste indiscriminately. In the large industrial estates of Maharashtra and Gujarat, chemical wastes are dumped along with municipal waste, polluting surface and groundwater. But Sandoz has been acutely aware of environmental pollution ever since a major fire at its wharehouse near Basel in Switzerland, where the MNC is headquartered, in November 1986 caused large-scale pollution of the river Rhine.

Most incinerators are equipped to burn 2,000 tonnes of waste annually, which is much higher than what Sandoz produces. So the company, says its vice president Dilip K Biswas, had to look for an indigenous design to meet its requirements. The Sandoz incinerator set up at Kolshet in Thane handles about 200 tonnes of waste annually.

Yagna can destroy both solid and liquid toxic waste and uses the waste itself as fuel. The incinerator scorches about 100 kg of waste per hour and the waste is held in the incinerator for only 4 seconds.

The temperature inside the furnace is kept below 1,100oC to minimise the quantity of polluting nitrogen oxides produced when waste is burnt. Once the waste is incinerated, the emissions pass through several alkaline scrubbers that reduce their acidity. A sophisticated computer monitors emission levels and automatically shuts down the system if any parameter is exceeded.

Yagna handles sludge from the Sandoz effluent treatment plant, oils, solvents, plastics, paper and organic and inorganic chemical residues from the production process. The company also plans to bring in waste from its plants in Panoli and Kandla in Gujarat to the incinerator in Thane. It is also willing to destroy toxic waste from plants that use Sandoz's chemicals.

Because of the nature of the products Sandoz makes, the incinerator ash contains traces of heavy metals, which can have adverse health and environmental effects. The ash is converted into bricks that bind the heavy metals. The team has tested these bricks under water and have found that the heavy metals do not leak into water. Sandoz is now using these bricks for construction activities, for which it requires some 50 tonnes of bricks every year, says Biswas.

Sandoz has invested about Rs 160 lakh over 4 years in researching and developing the incinerator and the pilot plant cost Rs 20 lakh to construct. The incinerator design is extremely versatile, says Biswas. Parts such as scrubbers can be augmented or removed to meet the requirements of different industry waste profiles. He is hopeful that small-scale industries will find the plant attractive. An excited R Vasudevan, director of the School of Energy, says his team now plans to develop a small-scale incinerator to destroy hospital wastes.