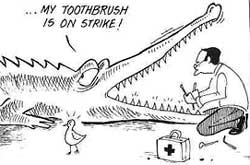 Experts from the Indian Council of Agricultural Research (ICAR), the Wildlife Institute of India (WII), the Indian Veterinary Institute and the US Fish and Wildlife Service (USFWS) have jointly proposed the establishment of "wildlife health centres" in India's national parks and sanctuaries. Five such centres are sought to be established in different parts of the country, which would conduct research and training programmes for veterinary doctors.

The project is the brainchild of P Malik of the Dehradun-based WII and F Joshua of USFWS's National Wildlife Health Center in Wisconsin. Emphasising that wildlife health care is a little known subject in India, they point out that although wildlife administrators did initiate some discussion on the subject when Project Tiger was launched in 1973, little has actually been done. "Since then," explains Malik, "the need for a better understanding of disease among wild animals has only increased."

"Human encroachment into protected forests has forced the animals even closer," says Malik. Besides, sanctuaries, which are smaller than their natural ranges, force animals into closer proximity. This has led to epidemics among animals, such as the foot-and-mouth disease among the deer at the Ranthambore national park.

ICAR has responded enthusiastically to the project proposal and promised to provide Rs 47 lakh to help vets specialise in wildlife diseases.