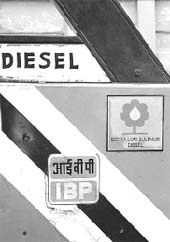 When the Union government introduced low sulphur diesel and petrol in the country, most people welcomed the move. However, the entire purpose stands defeated: by increasing the price of low sulphur petrol and diesel (by 13 paise and 52 paise per litre respectively) the government seems to have sent a wrong signal to the consumers and thus reduced its market potential. Moreover, only 125 out of the 750-odd supply stations in the National Capital Region (NCR) supply low sulphur fuel.

This increase cannot be avoided, as the government acts according to the international community pricing," says E Nanda Kumar, technical director of Oil Coordination Committee (OCC) in New Delhi. But experts say that it is the government which imposes the tax on various commodities. The least it can do is to increase the tax on the conventional fuel, in order to encourage the use of the better quality fuel, they say. H B Mathur, professor emeritus at the Delhi College of Engineering, says that the government is not doing much. He feels "politicians without vision" are being "brain washed" by the influential automobile manufacturers.

On the other hand, automobile manufacturers boast of complying with Euro ii emission norms, blaming oil companies for not producing the desired fuel quality. However, a random survey done by Down To Earth reveals that most of the manuals of the companies fail to mention the need for low sulphur fuel for better efficiency and maintenance of vehicles. This leaves many Euro II compliant car owners ignorant about the need to meet the emission norms.

In fact, some major automobile manufacturers deny the need for the use of low sulphur fuel to attain the Euro II emission norms. "Using the conventional diesel may slightly lower the efficiency of the vehicle, but is not a major problem," says an official of a major automobile company.

When questioned about this, Venu Srinivasan, president, Society of Indian Automobile Manufacturers (SIAM) was caught unawares at the press conference organised by Society of Indian Automobile Manufacturers (SIAM) on emission norms. His only reply was: "we will look into the matter." However, Mathur says that they (automobile manufacturers) have no interest in providing information about better efficiency to their customers. "They are always reacting, passing the buck and pushing oil companies while they wait on the sideline," he adds. As a result, a large number of misinformed customers opt for the cheaper fuel. Most of the employees of the supply stations corroborate this fact.

Many studies point out that vehicular emissions can be considerably reduced only by using clean fuels. In India, Euro II emission standards can only be met when low sulphur fuels are used. But are the consumers aware of this, and are the manufacturers really concerned? Moreover, is the government listening?