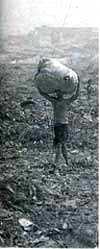 A 5-mw power plant fuelled by municipal garbage is being set up in south Madras. The project is a joint venture between the Newam Power Company Ltd and the Tamil Nadu Industrial Development Corporation Ltd, with technical collaboration with the UK-based Henley Burrowes and Co Ltd, which has worked on similar plants in the US, Japan, France and Italy.

The plant will burn up 600 tonnes of garbage every day, slightly less than a fourth of the entire solid waste generated in Madras. The joint sector company will buy this garbage from the Corporation of Madras at Rs 10 per tonne. Two hundred tonnes of fuel will be derived from the garbage.

According to the company promoter Thiagaraj S Chettiar, the garbage in Madras has a calorific value between 3,000 to 4,000 kilocalories, high enough to be converted into fuel. A similar plant in Delhi had failed to deliver because of the Capital's low calorie garbage.