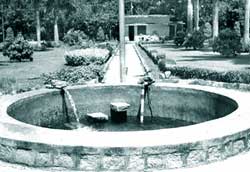 the supply of recycled water for Bangalore's public parks has not started yet, although, a year ago, the Karnataka government banned the use of potable water and groundwater in such places. The reason: the Bangalore City Corporation (bcc) has no vehicles to transport recycled water from Bangalore Water Supply and Sewerage Board's two tertiary water treatment plants, which don't function properly anyway. Now, the Karnataka State Pollution Control Board (kspcb) is trying to provide recycled water to public parks from the city's luxury hotels and industrial units that have their own water treatment plants.

The government's plant at v valley has a capacity of 60 million litres per day (mld) and the one at Yelhanka 10 mld . But both function to half their capacities. On the other hand, industrial units and hotels often have more recycled water than they can use.

"The excess treated water goes into drains or back into the treatment units, increasing their load,' says Syed Khaja of kspcb . The board has estimated that 5 lakh litres/day of such water can be procured for public parks.

Windsor Manor Sheraton has a treatment plant of 300 kilolitres (kl) per day. It functions to a capacity of 250-260 kl/day. "Around 100-110 kl is used within the hotel and the rest is given to bcc ,' says Ashok Chowdary, the hotel's chief engineer. The water is ferried in bcc's only vehicle allotted for the purpose. Mico has a treatment plant of 350 kl/day, running at almost full capacity. It treats 40,000-50,000 litres water in excess. "We have not yet started donating the excess recycled water but are willing to do so,' says Vijay Kumar, Mico's environment manager. For now, the logistical hitches in using recycled water will prolong the dependence on the city's groundwater.