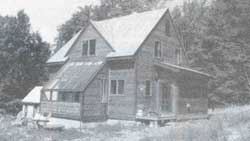 THE once-forgotten architectural concepts that manipulate the sun's energy to create a conducive environment within a building are being revived the world over.

A recent study by the International Energy Agency, a worldwide consortium of government energy departments and industry, investigated 48 commercial buildings in Western Europe and Canada built or renovated recently that use solar "passive" architecture. The study, presented at the Indo-German Solar Architecture Seminar held recently in New Delhi, revealed that relative to conventional buildings, solar designs save as much as 90 per cent of the energy required to heat or cool a building.

They use features like windows, skylit courtyards -- atria -- and transparent greenhouses to trap or reduce the heat absorbed. Indirect systems are also often integrated with space-heating systems through solar-warmed air.

South-facing sunspaces like greenhouses create a buffer zone to collect the sun's energy which can then be directed into other rooms by opening the doors of connecting rooms. For instance, during the renovation of a building constructed in the '30s in Berlin, a greenhouse, or atrium, was added as a solar passive feature.

Most of the rooms of the old building opened onto this atrium. The greenhouse, which is south-facing, traps sunlight during the day, obviating the need for artificial lighting. Moreover, this area acts as a buffer zone between the cold building and the colder exterior.

The sun's radiation and heat losses from the building heat the atrium, making it conducive in winter. Energy can be directed to the inside rooms by opening the doors between them and the atrium, which is also fitted with a system of vents and tubes through which excessive heat can be released. This system, controlled by fans placed under the floor, can either be used to suck out warm air from the top of the sunspace or to store the heat in the lower spaces of the room. The system can be controlled either manually or automatically.

According to the study, about 14 buildings saved more than 50 per cent energy by integrating these concepts into their design. These solar passive features, explains Gustav Hillmann of the Berlin-based Institute for Building, Environmental and Solar Research, work well for structures smaller than 5,000 sq m; for larger buildings, insulation and heat-loss prevention and energy management systems gain predominance. Hillmann is confident that solar passive features can be integrated into building design without any additional costs and can save a great deal of money that would otherwise be spent on heating or cooling.