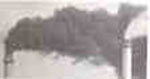 With a view to check pollution and discourage thermal power plants from using coal with high ash content, the Union ministry of environment and forests is preparing draft guidelines for a tax on fly ash. The ministry is also working on a move to give environment clearance to new thermal plants only if they are linked to coal pithead washeries, which cut down the ash content.

Among other measures to cut down the pollution from thermal plants, the ministry is proposing to set a limit on the distance between coal mines and thermal power plants. All existing plants beyond 200 km from the mines will have to buy "beneficiated" coal from washeries to cut fly ash content by at least 35 per cent.

Says Central Pollution Control Board (CPCB) chairperson Dilip Biswas, "The proposed measures will also improve the efficiency and economy of thermal power plants as better fuel efficiency would reduce generation cost, and the overheads incurred to transport ash would come down."