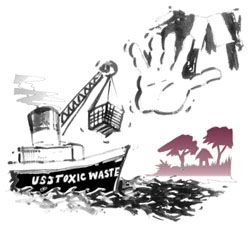 on may 5, a division bench of the Supreme Court, passed an interim order banning import of hazardous and toxic wastes. The court has directed the Centre and the states not to issue any fresh import licenses for these substances. This case has been adjourned till the first week of August, when it would be heard again.

The bench, comprising the Chief Justice J S Verma and justice B N Kirpal, also issued notices to all states to show cause why an order be not passed directing the closure of thousands of unauthorised units which use imported hazardous wastes as a raw material, without adequately providing for their safe disposal. The judges also directed state pollution control boards to file their replies within four weeks, on action taken by them regarding utilisation of hazardous wastes, with reference to identification and availability of safe disposal sites.

The court had taken serious note of the subject that there was no safe disposal for the more than 2,000 tonnes of hazardous waste that is imported by the country. It may be recalled that in an earlier hearing of the same case earlier, former secretary of the ministry of environment and forests (mef), N R Krishnan, had been reprimanded by the apex court. The mef, which issues licenses for import, was not aware of the fact that while they had issued lesser than 10 licenses, there were well over 300 importers of these wastes.

"Although this order holds good until the case is heard again, the basis of the case is that India must adhere to the principals of the Basel Convention, and ban the trade of the wastes mentioned therein," says Sanjay Parikh, one of the advocates of the petitioner, the Delhi-based Research Foundation for Science. "Till such time the Centre decides which wastes are hazardous, such strong orders are neccessary," he adds.