Forfeiting our commons: a case for protecting and conserving Challakere's Amrit Mahal Kavals as livelihoods-supporting, biodiversity-rich and ecologically-sensitive grassland ecosystems
Forfeiting our commons: a case for protecting and conserving Challakere's Amrit Mahal Kavals as livelihoods-supporting, biodiversity-rich and ecologically-sensitive grassland ecosystems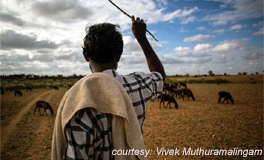 This is a comprehensive report submitted by ESG to the expert committee appointed by NGT on diversion of Challakere's ecologically sensitive Amrit Mahal Kaval Grasslands for defence, industrial and infrastructural developments.
Forfeiting our Commons is a comprehensive critique and expose' of the gross illegalities that have formed the basis of decisions resulting in the diversions of these ecologically sensitive and heritage Kavals. The report provides a deep understanding of the extensive environmental and social impacts the projects have caused even as preliminary project activities are being initiated illegally. The report makes a very strong case for the conservation of these biodiversity rich Kavals as it is a crucial habitat to support the revival of the critically endangered Great Indian Bustard, Lesser Florican, a variety of endemic flora found only here, and also the highly threatened Blackbuck, Deccan Wolf, etc. The report demonstrates that the high degree of care for and wise use of these commons by local pastoral and agrarian communities over centuries is the reason why these grassland ecosystems have survived. Diversion of these commons to defence, institutional, infrastructure and urban developments would not only amount to violation of directions of the Courts which has cast a duty on the Government to protect such ecologically sensitive areas, but would also result in the destruction of one of the last remaining large and contiguous grassland ecosystems of Karnataka. The report demonstrates that the Government is promoting water intensive developments in a water starved region even though fully aware that such decisions is fraught with very high risks of causing social unrest and ecological disaster.
 See Also
Policy: Policy on inspection, verification, monitoring relating to forest...
In-court: NGT order on creating fact finding expert committee.
Document: Terms of reference of the NGT expert committee.
Report: Visit of NGT appointed Expert Committee to Challakere Amrit Mahal...
Note: Extent and location of Contiguous Grassland Ecosystems in Karnataka.
Report: Great Indian Bustard in Karnataka.