Additional image::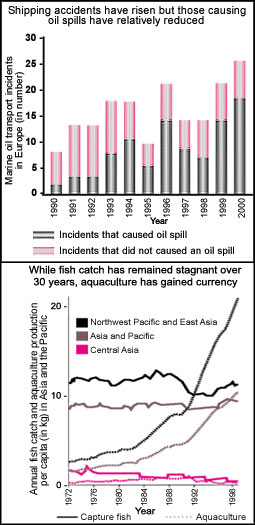 Under siege
• 38 per cent of Africa's coastal ecosystems are threatened by development-related activities. Population densities reach 500-1,000 inhabitants per square km along the Nile delta

• Almost 25 per cent of Canada's and about 55 per cent of the USpopulations live in coastal areas. The US coastal population is growing at four times the national average

• In the past 30 years, depletion of resources such as fisheries, mangroves and coral reefs has hit Asia and the Pacific. An estimated 1,800 tonnes of pesticides enter the Bay of Bengal every year

POLAR WARMING AND MELTING OF THE ICE CAPS COULD POTENTIALLY ALTER THE FLOW OF MAJOR OCEAN CURRENTS

• It is estimated that more than 60 per cent of Asia's mangroves have been converted to aquaculture farms

• The number of oil spills may have reduced relatively but recent studies reveal the devastation such spills wreak for marine life over long periods of time

• Sewage contamination of marine waters is a public health problem of global proportions.


Global disease burden of selected common and marine-related diseases
Disease
Economic impact
(US $ billion)
Malaria
124.0
Diabetes
44.0
Trachea, brachia and lung cancer
35.0
Stomach cancer
31.0
Intestinal nematodes
20.0
Upper respiratory tract infections
5.2
Trachoma
4.0
Dengue fever
3.0
Japanese encephalitis
3.0
Diphtheria
1.4
Diseases related to marine contamination
related to bathing and swimming
1.6
Seafood consumption (hepatitis)
7.2
Seafood consumption (algal toxins)
4.0
Sub-total
12.8