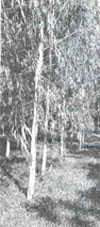 Rajasthan villagers have taken to uprooting the eucalyptus trees, popularly known as safeda, which they had welcomed a decade ago as harbinger of greenery in the desert state. Residents of Samredpur Kalan Khurd, a village 60 km from Jaipur, have started an 'uproot the safeda campaign' after Rajasthan Mukti Panchayat, a non-governmental organisation, informed them that the trees consumed a precious 300 litres of water daily and was more suitable for mass plantation in waterlogged areas.

Blaming the trees for the falling water table in the area and the declining fertility of the land, the villagers decided to start uprooting the eucalyptus trees both from government and private land. Rajendra Rathore of Gopalgarh village said that the villagers have decided to plant indigenous trees like khejadi, neem and babool in the area as the eucalyptus trees were of no value to them barring their good timber value.

The sarpanches of about 8 villages in the district have written to the collector asking him to stop plantation of eucalyptus trees and substitute them with trees found locally.