Boom time for lab bloomers
Boom time for lab bloomers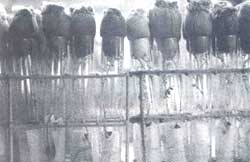 BIOTECHNOLOGY is turning flower farming into a very lucrative profession. Growing middle-class affluence has swelled the demand for ornamental flowers, which have become fashionable at social ceremonies, be it a wedding, a birthday, or a funeral.

Doing business in flowers is not something new. It dates back to the 17th century when growing tulips, very popular at the time, was a flourishing Dutch industry. In fact, the tulip business gave birth to the concept of stocks and shares.

With the advent of tissue culture, growing flowers has become a very high-tech and profitable business. Since the 1960s, when the technique became commercially viable, many nations have taken to it in a big way. Currently, the Netherlands is ahead of the rest, followed by Colombia, Israel, Thailand and Kenya, in that order, while Japan is the biggest consumer.

"Unfortunately," says Ramphal, a horticulturist at the Indian Council of Agricultural Research (ICAR), "the Indian government never realised the enormous potential we have in this area. Just imagine, India has about 15,000 species of orchids. Only now are we waking up to this long-neglected fact."

The commerce ministry has just prepared a plan to help India carve out a niche for itself in the global floriculture market. The objective is to generate foreign exchange worth Rs 200 crore annually by exporting flowers from 1997 onwards. In 1990-91, Rs 7.86 crore worth of flowers were exported. It is predicted that there would be a global deficit of flowers by the year 2000.

Four states have been identified by the ministry under the plan -- Kerala for orchids, Maharashtra for carnations and roses, Karnataka for chrysanthemums and Andhra Pradesh for roses. The ICAR has also decided to set up a national centre for orchids at Kalimpong.

But a few farsighted entrepreneurs are already quarrying this gold mine. Rajendra Nijhawan, a Delhi-based entrepreneur, is growing flowers through tissue culture in collaboration with an Australian firm. He imports tissue cultures and grows flowers in his labs. But he laments the fact that cultures are not yet available in India. Indian scientists are doing very little to develop cultures or new hybrid varieties so that India is able to compete in the international market, he adds. He also emphasises that lack of storage and transport facilities act as deterrents to many an entrepreneur.

The first commercial tissue culture laboratory in the country was established in Kerala by a private company under the guidance of several scientific institutions. The company, A V Thomas, has teamed up with Vanitha, a leading women's magazine in Kerala, to enlist thousands of housewives to grow orchids at home. It estimates that a housewife can easily grow 300 plants and earn not less than Rs 12,000 in a year.

Nijhawan has also introduced the concept of a floriculture club. He will provide the tissue cultures to interested parties on the condition that they sell their flowers only to his firm. "As marketing flowers is the most difficult part, this arrangement is mutually beneficial," says Nijhawan.

With more and more contenders jumping on to the flower bandwagon, companies are now concentrating more on producing exotic hybrid varieties. A few of the more sought after flowers are carnations, Star of Bethlehem and other lilies and freesias.

The market for cut flowers is growing almost as fast as flowers can be grown in tissue culture labs. The advantages of flowers grown through tissue culture over those grown vegetatively are many. For example, they have thicker and longer stems, larger flowers and longer shelf-life, claims Nijhawan.

Plants produced through tissue culture, says R A Pai, a geneticist at the Indian Agricultural Research Institute (IARI), are hardy, being free of viral or bacterial infections, and identical in character. They can be produced in large numbers and throughout the year.