Debate over mobile towers close to hospitals
Debate over mobile towers close to hospitals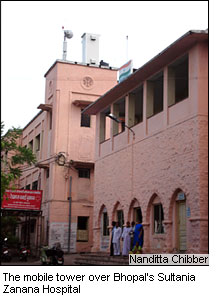 a signal booster mobile tower over a maternity hospital in Bhopal, Madhya Pradesh, has become the point of an imprecise issue. Sultania Zanana Hospital, a 250-bed government maternity hospital, recently allowed cellular network company Airtel to install a mobile tower over its ante-natal and delivery ward for better connectivity.

This has kicked off a debate over whether such a tower would adversely impact the health of new borns, the aged and those with low immunity. The doctor fraternity is concerned. But Neeraj Bedi, superintendent of the hospital, defends the action saying, "There is no proven evidence to support or refute that electromagnetic radiation waves from mobile towers are harmful for new born babies. We have not faced any interference with medical equipment either."

Bedi further explains that all medical equipments are based on microwaves that are usually not harmful to the body, be it ultrasonography or angiography: "If ultrasound waves do not harm or destroy the foetus, electromagnetic waves shouldn't,' he says.

Also, he says the 57 year-old hospital building's thick walls deflect a substantial amount of the microwaves emitted. Earlier research suggests that proximity, directionality and shielding of rooftop mobile antennas and towers can reduce signal strength, and that does not cause substantial interference inside a building.

But Madhuri Chandra, senior gynaecologist with the hospital does not want mobile towers near the hospital premises. Non-committal on whether radiation affects new borns, she says towers are structurally unsafe. Her fears spring from an incident where a mobile tower fell from atop a four storey commercial complex after a squall hit Bhopal recently.

But given that potential damage to health by electromagnetic radiation waves is under research, do areas like hospitals classify under sensitive areas? According to the Nripendra Misra, chairperson, Telecom Regulatory Authority of India (trai), "We have no such instructions and have not yet looked into the health hazard of mobile towers emitting electromagnetic waves.' The Department of Telecom and the Union ministry of health need to look into this matter, he says.

An Airtel official, however, confirms that for installing mobile signal boosters or main towers, about 106 permissions are needed prior to installation and hospitals are not included in the ambit of sensitive areas yet and that permission from the municipal body of a place concerned is required. "According to government guidelines, a municipal body only reviews the site of the mobile tower from a structural safety and skyline congestion point of view,' says a Bhopal Municipal Corporation official.