Poaching led to record rhino deaths in Kaziranga
Poaching led to record rhino deaths in Kaziranga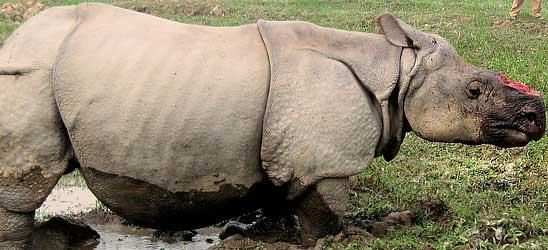 "Help save rhinos,' a poster appealed. A photograph of a severely-bloodied rhino loomed out of it. We were at Jakhalbanda, a regular halt for buses taking visitors to the Kaziranga National Park. It was peak tourist season, visitors were there in droves but the atmosphere seemed tense. I did not have to set foot in the park to find out why. A local daily that I was carrying noted that six poachers had been nabbed at Kaziranga.

Forest officials told me later that the park had lost 24 rhinos to poachers in little over a year. The rhino on the poster was amongst them. The animal's horn had been hacked off but it was still breathing when local journalist Ranjit Razzak clicked.

I sought an appointment with the chief conservator of forest (wildlife) B S Bonal, hoping to get the forest department's viewpoint. Bonal, I knew, was an old hand at dealing with poachers. He had checked poaching in the 1990s by roping in ngos and local people.Bonal was talking to a few elders from settlements around the park when I knocked at his office doors. But he did not make me wait for long. The conversation though was a bit of disappointment: the forest officer did not say much apart from informing that the park's security was being tightened.

It was time to get the story from the suspects and I seemed to be in luck. Three of the six recently nabbed were being interrogated at the inspection bungalow, metres away from the ranger's office where I had gone for an interview. But that's where my luck ran out: meeting the poachers was out of question, a forest department official said. He did provide some details of the arrested poachers, though. Among the arrested was Adhir Dutta, a Golaghat-based businessman and allegedly the poachers' local conduit. There were also two former poachers, Motka Gogoi and Durlav Saikia, who had turned informers in 2003 but were allegedly back to their old ways.

The meeting got over by late afternoon. I had no time to waste. Punen Gogoi, president of Kaziranga's taxi association had to be located. I was hoping he accompanied me in my forays into areas close to the park. Punen Gogoi had spent nearly 20 years as a tourist guide and was reputed to know the park almost like the back of his palm. Locating him took only a few phone calls. We set out immediately to a village called Missing Gaon.

Punen Gogoi proved true to his reputation. "The forest guards do not get even the basic amenities. Even batteries for torches used during patrolling are hard to come by,' he said. Most villagers he said had very little contact with the forest department. At Missing Gaon, Rajen Pegu, a farmer, confirmed what my guide had said. "Animals stray into our land very often. I have lost crops on a fairly large tract. But pleas for compensation have fallen on deaf ears. The government would compensate us with Rs 10,000-15,000 for crop losses earlier, but in the last three or fours years we have not received any compensation.'

From Missing Gaon, we headed back to Kaziranga. But a few kilometres into the park, a hailstorm had us scampering into the range office. Our open top Gypsy with no windscreen accorded little

On an average a forest guard patrols 20 sq km of Kaziranga everyday
ARNAB PRATIM DUTTA
protection. It was dusk when the storm eased. Gogoi bid farewell promising a trip into the park the following morning. But I had work left.

After a change of clothes and few hurried sips of warm tea, I set out to meet Kaziranga's most experienced forester, D D Boro. I was told that he had spent a quarter of a century in the park. Boro was not in office. A man directed me to his home. He was not there as well. Some said he had accompanied the poachers to the magistrate at nearby Golaghat. Others directed me back to his office. I decided to try my luck there. Boro arrived after half an hour or so.


Adhir Dutta, Durlab Saikia, Motka Gogoi, Naren Bora, Paban Gogoi and Sunu Gogoi
Gallery of suspects
According to Adhir Dutta, a group of six met at the residence of one Paban Gogoi at Sepenakhowa village in Golaghat district on January 18. They decided to met the next day at a dhaba on the national highway 37. Three other shooters joined them. The group spotted a female rhino and a calf at the Methoni Tea Estate, close to the sanctuary.

The shooters shot and injured the female rhino. The calf charged them, prompting the poachers to shoot and kill it. The horns of both the animals were hacked off. The female rhino succumbed to her injuries, the following day, though the forest departments veterinary tried to save her.

According to Dutta, the gang sold the two horns to a middleman for Rs 4.7 lakh, the next day. The adult rhino's horn weighed 400g while the calf's horn was a mere 70g. Dutta said that Motka Gogoi paid the three shooters Rs 80,000 each. Motka kept Rs 30,000 for himself, while giving another 30,000 to Dutta while the rest Rs 70,000 was divided among the other four. But one of them, Naren Bora threw a spanner in the works when he did not get his share of the booty.

He threatened to reveal the plot to the authorities. Bora did not carry out his threat, but he talked about the incident to some villagers and the information reached the forest officials.



He acknowledged my presence, but his immediate concern was on locating a file that had details of poachers caught a day before. After a while, the search turned frantic, with Boro making anxious calls to his colleagues even while he tried to keep a conversation with me, largely in monosyllables. The file was finally found and Boro could now give me all attention.

He blamed the rise in poaching to the failure of the intelligence network. "Most poachers use mobile phones. After a kill they make off through the national highway 37 around Kaziranga's southern periphery. There are 39 resorts and 41 dhabas on the highway and it is extremely difficult for the department to keep track of all people visiting the park. We do not have the infrastructure,' he said. He also complained that the local police do not cooperate with the forest department.

I could have chatted with Boro for long. But it was late in the day and the forest officer seemed to have work pending. Next morning my guide was back. After a brief halt at a fuel station where petrol was sold in water bottles, we headed towards Kaziranga. Two friends of my guide, Podum Bora and Bipon Gogoi, joined us on the way. The two were interesting company, especially because they came from the Dohagaon, the same village as the suspected poacher, Motka Gogoi. "In the past few years we have seen Motka's family wear the best clothes and jewellry. We were not sure where the money was coming from. Now we know,' said Bipan Gogoi. Bora added that Motka Gogoi's son was a guard with the forest department and there were regular fights between father and son. We tried to trace the son, but he was away on duty. We had taken the popular tourist route to the park