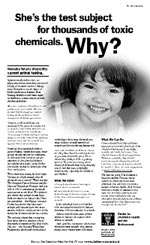 CHILDREN'S HEALTH AND THE ENVIRONMENT (CCHE) . New York Times . Between June 6 and August 15 . 2002

In what is being termed as the most extensive advertising campaign ever done to promote environmental health, seven spine-chilling one-page ads were displayed in the New York Times. The ads alerted the readers about the toxic dangers that their children reel under. Brought out by the Centre for Children's Health and the Environment (CCHE), the ads examined the links between exposure to toxic pollutants and childhood illness such as learning disabilities, cancer, endocrine disruption and reproductive system abnormalities.

The CCHE, in its advertisement, also puts forth suggestions to protect children from the obnoxious chemicals. It advises parents to eliminate pesticides outside and inside their homes. Buying organic produce and avoiding consumption of fish from contaminated water would also help. "We must demand for new chemicals to be tested for safety before being allowed to be sold in the market," says one of the ads. Another ad that warns about DDT in mother's milk says that unless the classes of chemicals that accumulate in breast milk are phased out, the risk to infants would continue to increase.

The centre provides a summary supporting scientific evidence and a list of scientific endorsers at www.childenvironment.org. According to Philip Landrigan, the director of CCHE, hits on this website increased more than 10-fold after the first ad ran, from less than 100 hits per day to more than 1,000. And even though industry groups feel the ads are exaggerated, the medical fraternity has come in support of the ads. Former assistant secretary of health at US Department of Health and Human Services praised the ad saying they are well done, not overstated.