SARS India's wrong diagnosis
SARS India's wrong diagnosis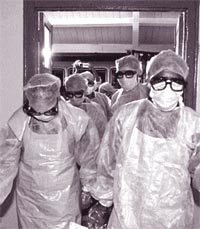 the Union government's recent declaration that India does not have any cases of Severe Acute Respiratory Syndrome (sars) may have allayed the fear the disease had generated during the past few weeks. But there's more to the authorities' flip-flop on the issue than what meets the eye. A closer look reveals that the government had earlier begun confirming sars cases because it was not adhering to the definition of the disease as originally enumerated by the World Health Organization (who).

In the meantime, the un body has modified it further, a suspected case of sars should have fever (along with body ache and cough), pneumonia and a history of contact with a patient or travel to a country where the disease is more virulent. While the suspect cases in India were diagnosed with fever and had some contact with other patients, they were not suffering from pneumonia. But the government failed to take this into consideration.

Diagnostic tests using polymerase chain reaction (pcr) were carried out to confirm the suspect cases. The detection of the virus in the samples sent the authorities into a tizzy. In a pcr test, the dna of the virus helps ascertain its presence. The who, however, says that detection of the virus is not the only clinching evidence. Initially, the who stipulated that the three criteria mentioned above had to be fulfilled, but did not mandate lab tests. Even as we go to press, it has made the latter compulsory.

It is, therefore, quite evident that the concerned Indian officials jumped the gun. Rather than detecting the disease correctly, they seemed to be keen to boast about their advanced laboratory techniques. "The diagnostic capabilities of our country are super. What the us Centers for Disease Control and Prevention can do, we can do better,' gushed a senior official of the Indian Council of Medical Research. This overzealous approach led to misreporting and caused widespread panic. The situation could have worsened had the who not issued a clarification. N Kumara Rai, director, department of communicable diseases, who, says: We are not responsible for finding out whether there are sars patients or not. The government itself has to verify the presence of the disease.'

Experts caution that despite the who's clean chit, if care is not taken things can still get out of hand. At present around 20 people have been detected with the sars virus in India. The who has identified one probable sars case. "The suspected cases can easily transmit the disease to others,' points out Pradeep Seth, head of the department of microbiology, All India Institute of Medical Sciences, New Delhi. He opines that even these patients should be quarantined for 10 days, which is the likely incubation period for the virus.