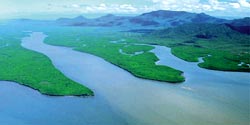 Australia's Great Barrier Reef is facing a different kind of danger. Runoffs from the sugarcane fields along the 2,000-kilometre-long coastal strip that runs parallel to the reef are said to increase soil acidity in the area, a problem serious enough to rival the better-known blight of dryland salinity.

Highlighting this, a recent meeting of scientists, economists and other international experts in Australia's tropical east coast town of Ballina pointed to a growing gap between sugarcane growers and conservationists.

Eighty per cent of the Great Barrier Reef catchment supports agricultural production, which has resulted in destruction of wetlands, nutrient runoff, erosion and stress to the coral.