Tapping commercial potential
Tapping commercial potential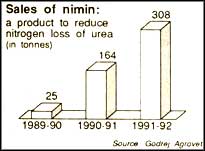 ANJANI KHANNA HYDERABAD & S GOPIKRISHNA WARRIER MADRAS

INDUSTRIAL giants across India are taking a keen interest in neem. ITC, a major cigarette manufacturer, has found that neem extracts are extremely effective against the dreaded tobacco mosaic virus and the tobacco caterpillar moth (Spodoptera litura) which can extensively damage tobacco crops. ITC was forced to seek natural pesticides because "synthetic residues could find their way into cigarette smoke and this could be dangerous," according to V V L N Prasad, a scientist with ITC.

The company was been working on neem since the mid-1970s and has encouraged farmers in Andhra Pradesh to use neem seed kernel suspensions in tobacco nurseries. Neem leaf decoctions were also experimented with. ITC has now introduced Wellgro for use in tobacco nurseries, which it claims produces both healthy seedlings and protects them from pests, while reducing the expenditure on pesticides. "We have developed neem products as a farmers" service," say E Ravindranath, vice president of ITC"s international business division.

Keeping an eye on the Western market, ITC has developed RD-9 Replin -- a neem-based pesticide containing 3000 ppm azadirachtin. "India produces some 75-75 per cent of the world"s neem, and we export neem primarily as a commodity. We should be exporting value added products," asserts Ravindranath.

In January 1990, the company sponsored a conference on changing scenarios in pest management and, in 1993, it will support the neem conference to be held in Bangalore.

The industrial giant of Tamil Nadu, the Southern Petrochemical Industries Corporation (SPIC), is also on the threshold of launching two neem-based insecticides: an azadirachtin enriched powder for export to the US and a liquid with 0.15 per cent azadirachtin concentration, called Neem Gold, for the Indian market. For both products, SPIC has been able to stabilise the active ingredient, azadirachtin, extracted from the kernel of the neem seeds.

The company expects good sales both in India and abroad for its insecticides. It projects an annual export market worth US$ 1.5 million by 2000 AD and national sales worth Rs 10 crore by 1996-97. The present national market for insecticides is about Rs 740 crore annually, with a growth rate of 3 per cent per annum. "Although a Rs 10 crore market by 1996-97 is not very large, we expect a rise after the concept gains farmer acceptance," argues K Chandrasekharan, chief manager (bioproducts).

Azadirachtin has a three-pronged action on insects. It is a growth inhibitor, preventing the growth of insects from one stage of their life cycle to another. Eggs do not hatch into larvae and larvae do not become adults. It is an anti-feedant, insects that come in contact stop feeding and die of starvation. And thirdly, azadirachtin also repels insects from sitting on the plants.

"Studies have show there are around 200 species of insects on which azadirachtin acts," said T R Govindachary, director of the Centre for Agro-Chemical Research at the SPIC Science Foundation (SSF). This includes the brown plant hopper and stem borer of rice, the spotted bollworm and thrips that destroy cotton, and the stem and shoot borers affecting sugarcane crops. "But it does not harm insects like the honey bee that are beneficial to the crop," added a project official.

The technology for extraction and stabilisation was developed by the SSF, an autonomous research body set up by SPIC. "The basic knowledge of azadirachtin was available, since many people had worked on it. But we succeeded in developing a technology to extract and stabilise the azadirachtin concentration in the product," said Govindachary. "As far as we know, most of the products available in the market today are formulations based on neem oil, with no standardisation in the azadirachtin concentration," he added.

The production process involves the removal of the seed coat from the neem seed, pulverising the kernel to a fine grain, and extracting azadirachtin using an organic solvent. SPIC expects a production of 100,000 litres of Neem Gold and 110 kg of azadirachtin enriched powder in the first year from its Rs 1.8 crore plant at Porur on the outskirts of Madras.

W R Grace, a US Fortune 500 company, will be the first international customer for the enriched powder. "Our product will be used by them for their insecticide Margosan-O," said Chandrasekharan. "We will supply them the powder at US$ 1.5 per gm, from which they will be able to make six litres of their product."

Chandrasekharan pointed out Indian farmers already use neem oil as an insecticide. "We now have to tell them that we have brought them the active ingredient of neem. However, a problem may arise because farmers used to chemical insecticides would expect an instant knock down, which our product does not give," he explained. Azadirachtin is not an instant killer like chemical insecticides.

The price of Neem Gold, fixed at Rs 250 per litre, is much higher than the neem oil based formulations available in the market, which average at Rs 60 per litre. But for an acre of land, only half a litre of Neem Gold is necessary as opposed to three litres of the other formulations.

According to SPIC officials, getting sufficient neem seeds and storing them in a way that they do not lose their strength may pose problems. "We have to store the seeds under dry conditions. We do not have data on the loss of quality during storage," said Govindachary. The total requirement is an annual 1,500 tonnes of seed, which will provide 500 tonnes of kernel. Seeds will have to be stored for long periods because they are available only in July, August and September. Tata Oil and Godrej Soaps are already buying large quantities, and with SPIC also now in the market, there could well be a shortage of seeds and a consequent rise in prices thereby making growing neem trees a very remunerative proposition.

Godrej Soaps" Nimin is based on neem bitters. Its purpose is to coat urea pills to improve the nitrogen-use efficiency of urea. Several experiments have been conducted in fields as well as in agricultural universities and the results have been encouraging.

Based on four years of research, the Konkan Krishi Vidyapeeth has come out with an official recommendation to coat urea with Nimin. Similarly, research experiments have been conducted at agricultural universities in Rajasthan, Punjab and Tamil Nadu. The Indian Council of Agricultural Research has also confirmed the efficacy of Nimin-coated urea. Sales of Nimin have been steadily rising. Since coating of urea by Nimin is a new and non-conventional idea, it takes a long time to impress farmers about the use of Nimin, say Godrej officials. Hence, the company has had to put in tremendous effort to popularise the use of Nimin.

Godrej Agrovet has also registered Achook, an azadirachtin based product, for controlling pests that infest various crops. The company claims that research results are encouraging and it foresees a very good demand for the product in India. There are also several export queries from Japan, America, Spain and Germany.