Testing of fire-crackers to assess the compliance of noise level standards prescribed under Environment (Protection) Rules, 1986
Testing of fire-crackers to assess the compliance of noise level standards prescribed under Environment (Protection) Rules, 1986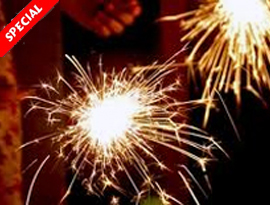 According to this report by Maharashtra Pollution Control Board (MPCB) & Awaaz Foundation, the manufacturers of fire crackers are flouting Supreme Court directives on noise levels as well as the quantity of heavy metals in their products.
Bursting of fire crackers create significant noise pollution during the Diwali Festival. MPCB for last few years is trying to create public awareness towards the high noise levels generated during the bursting of the crackers and its associated adverse health impacts.

As a part of awareness activity, MPCB has carried out testing of fire crackers to assess the compliance of noise levels standards prescribed under Environment (Protection) Rules, 1986. Tests were conducted during 7th Oct -14th Oct'2013 at Mumbai, Pune, Nagpur, Nashik, Aurangabad and Kolhapur in association with Police department, NGO's and Petroleum and Explosives Safety organization, Nagpur. Testing of Fire crackers were carried out at these locations in presence of local media to create awareness among people and children's. In Mumbai AWAAZ Foundation was associated with MPCB for testing.
RELATED CONTENT