Unlocking Forests: Does CAF Bill 2015 Offer Enough?
Unlocking Forests: Does CAF Bill 2015 Offer Enough?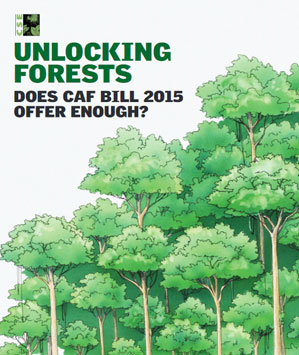 The Ministry of Environment, Forest and Climate Change (MoEF&CC) has been entrusted with preserving and improving the forest wealth of the country in the interest of its citizens and national ecological security. The rising demand for forestland for non-forestry purposes, such as mining, hydropower and infrastructure development, has caused MoEF&CC to divert millions of hectares of rich forests. In order to reduce forest cover losses, the Supreme Court of India directed the Central government in 2002 to constitute the Compensatory Afforestation Fund Management and Planning Authority (CAMPA). As a temporary arrangement, the Ad hoc CAMPA was constituted in 2006 to utilize CAMPA funds by taking up afforestation and conservation activities as a way of compensating for forestland diversions for non-forest uses. Centre for Science and Environment (CSE) has found that since the enactment of the Forest (Conservation) Act in 1980, the Ministry has granted approval for the diversion of 1.29 million ha of forestland for non-forestry purposes in 28,677 cases till August 2015. Various studies estimate that approximately 4–5 million ha of forestland was diverted in 1950–80.