Additional image::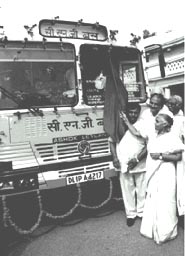 More than one million cng vehicles are plying in different parts of the world. Argentina, Italy, Russia and the us have the largest share. The natural gas vehicle market is expected to grow dramatically in the us . The main reason for this is the thrust on clean fuels and extremely stringent emission regulations for diesel and petrol vehicles. The latest data from the International Natural Gas Vehicles Association of the us shows 87,500 natural gas vehicles in the country. The us has about 40 per cent of the total number of cng refuelling stations in the world. The us department of energy quotes the General Accounting Office' study to point out that half of all the transit agencies contacted continue buying alternative fuel buses and apart from one exception, none of them was ordering any diesel buses.

The us government is encouraging interstate clean transportation corridors so that trucks can move from one state to another using cng . One such corridor already connects several cities in western usa like Salt Lake City, San Diego, Los Angeles, Sacramento, San Francisco, Las Vegas and Reno. The South Coast Air Quality Management District of California has mandated that from July 1, 2000, any public fleet operator with 15 or more vehicles who wants to purchase new vehicles or replace old vehicles must do so with only alternative fuel vehicles. China, too, has launched a rapid drive for cng . It is embracing cng as a major transportation fuel and already has 6,000 cng -powered vehicles.
Indian market: positive vibes
While most and the Delhi government are resorting to all sorts of delay mechanisms, the market for cng is bolstered by a number of vendors coming in with cng and conversion kits. The number of private cars, autorickshaws and taxis running on cng is increasing all the time. igl says cng sales have been rising every month. Several automakers are making cng car models or planning to do so. Till December 2000, dcm Daewoo was the only company producing factory-fitted cng cars. Now Hindustan Motors and Maruti also see business opportunities in cng models of the Ambassador and Omni models, respectively.

While most cng kits are imported from Italy, several kit manufacturers have set up shop in India. Vialle Alternative Fuel Systems is an example. Indian firms have also created infrastructure to install cng kits. Shrimankar Car Gas Private Ltd specialises in converting old two-stroke autos to run on cng . Several private companies are keen to supply cng , an area controlled by the government at present. One such is the Vavasi group, which is setting up a huge pipeline project to supply and distribute liquefied natural gas (lng) that can be converted to cng and used as fuel for vehicles.

Vavasi plans to set up a facility at Gopalpur in Orissa with the capacity to supply five million tonnes of lng each year. This will be connected with a pipeline linking Orissa with the states of Madhya Pradesh, Chattisgarh, West Bengal, Bihar, Jharkhand, Uttar Pradesh, Delhi, Punjab, Haryana and Rajasthan. Another pipeline would link Orissa with southern states: Andhra Pradesh, Tamil Nadu and Karnataka. The company has signed an agreement with Australia lng to secure five millions tonnes of lng every year for 20 years commencing from 2004.
Time for some harsh steps
Contrast the industry's response to cng with that of the government and you will realise the charade that is the Indian public sector. Government agencies aren't putting a premium on public health, or goading industry to come up with technological solutions to air pollution, as has happened in the rest of the world. The situation shows a clear crisis in the governance system of the country. Various ministries blame each other for delays in implementing the Supreme Court order, yet get in the way of each other if there is the slightest suggestion of positive action. This is the very reason for the creation of the air pollution crisis in Indian cities. Political leaders and administrators are too busy brokering the cause of narrow-minded business interests, rather than ensuring the safety and health of the people who they are supposed to serve.

There is still reason to hope, especially in the way the court has taken on the mantle of protecting public interest as laid down in India's constitution. It would be in line with the court's approach if some top officials and ministers are put behind bars for contempt of the court. But should the public keep waiting for the court to act? It would do much better if the anger of stranded passengers and schoolchildren is directed against the bureaucrats and ministers, who not only has blood on their hands but actually make political capital out of it. As for the civil society, it would do very well to take the overwhelming body of scientific information to the public to show how cleaner fuels like cng can diffuse the public health crisis in Delhi that is sure to spread to other major cities in the near future.