Chemical intensive farming good for soil?
Chemical intensive farming good for soil?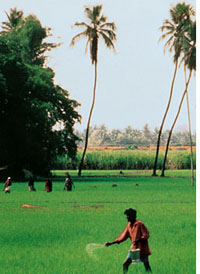 almost 57 per cent of geographical area in India suffers soil degradation. The reason attributed for this is often chemical intensive agricultural practices. But a recently published research justifies chemical intensive agriculture saying it maintains soil health. The study has been criticized on several counts.

It says organic carbon in the soil in various parts of the country has increased because of agricultural practices promoted in the past 25 years by the government. Researchers from the National Bureau of Soil Survey, Nagpur, tested soil samples from 22 places in the Gangetic plains and peninsular India and compared them with soil records 25 years ago. They also say that inorganic carbon has increased in the regions. Inorganic carbon is bad because it reduces the porosity of the soil.

The study does not take into account the balance of organic and inorganic carbon before giving a verdict on soil health. Increase in organic carbon does not necessarily imply increase in fertility, say scientists. For example, rice cultivation carried out with a balanced use of fertilizers, increases organic carbon. But it has disadvantages. "It decreases other nutrients. The positives are offset, leading to decrease in fertility,' says Biswapati Mandal, scientist at Bidhan Chandra Krishi Viswa Vidyalaya, West Bengal.

Bijay Singh, professor at the Punjab Agriculture University in Ludhiana, says the areas under study do not portray a realistic picture. "The study has been carried out in well manured and well fertilized sites, which are much above the recommended levels,' he said. The management practices reveal the use of generous doses of cowdung. Besides unbalanced use of fertilizers is known to decrease organic carbon.

A study by the Indian Institute of Soil Sciences, Bhopal, presented at the recently held Indian Science Congress at Vishakhapatnam says larger inputs of fertilizers and limited use of organic manures hastened soil degeneration.

The paper adds that the degeneration, which includes decrease in organic carbon, leads to a decline in yields. Experts say the National Bureau of Soil Survey study ignores such realities.

Tapas Bhattacharya, scientist at the National Bureau of Soil Survey and lead author of the paper, does not agree. "Most of these studies that say that organic carbon is decreasing have not monitored carbon content of the soil for as long a period as we have done. Hence there may be some error in the short-term calculations,' he said.