Rift within West Bengal's Left government over land acquisition
Rift within West Bengal's Left government over land acquisition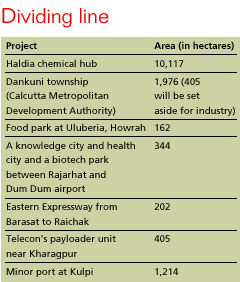 the west Bengal government's proposal to acquire over 15,000 hectares (ha) of land for nine industrial and infrastructure projects has created fissures within the ruling Left Front. Farmers who stand to lose land are not too impressed either.

The state government had passed the proposal on March 31 and plans to acquire land within the next six months. But farmers of Singur in Hooghly district are already up in arms against a proposed Tata project that will displace at least 5,000 marginal and landless farmers from prime agricultural land. As per the proposal, Tata Motors will set up a small car plant project over an area of 404.7 ha in Singur. "Except Singur, all other plots in consideration for industrial use are basically marshland,' says the state commerce and industry minister Nirupam Sen. But people don't seem to buy this logic.

Leading the opposition to the new plans are the ruling cpi(m)' s partners in the Left Front, the cpi, the All India Forward Bloc and the Revolutionary Socialist Party, who accuse the government of keeping them in the dark about the land acquisition proposal. State agriculture minister Naren Dey says he had never been consulted for earmarking project lands. According to Abdur Rezzak Mollah, the state land reforms minister, farmers shouldn't be forced to leave their lands.

The West Bengal cabinet has approved a standard rehabilitation package for the entire state: a two- katha (670 sq metres) plot in the project complex or nearby for those displaced from their homes; those unwilling to accept land will have to choose between a house in a village worth Rs 25,000 under the Indira Awas Yojana or a flat worth Rs 40,000 in a town under the Valmiki Ambedkar Awas Yojana; displaced families will be paid Rs 150,000 and those with no land needs will get Rs 10,000. The government will pay Rs 2,000 as shifting and conveyance expenses.

With growing demand for land from prospective investors, the state now plans to create a corpus to acquire land in chosen areas and develop it for industrial use.