Supreme Court to consider doctors' appeal
Supreme Court to consider doctors' appeal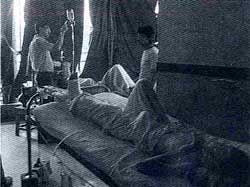 THE SUPREME Court is set to cover new ground in medical litigation when it considers an appeal by doctors contesting their inclusion within the purview of the Consumer Protection Act (COPRA), 1986. Doctors of the Cosmopolitan Hospital in Thiruvananthapuram were charged with medical negligence in September 1989, when G P Nair, a company executive, died at the hospital after an erroneous diagnosis. Nair's wife Vasantha approached the Kerala State Consumer Disputes Redressal Commission (KSCDRC), which asked the hospital to pay compensation.

The doctors went to the Supreme Court after several tribunals constituted under COPRA threw out their contention that they cannot be held on grounds of criminal negligence under the act. The doctors, asserting that COPRA does not cover their profession, appealed against the KSCDRC decision before the National Consumer Disputes Redressal Commission (NCDRC).

But NCDRC president and former justice V Balakrishna Eradi upheld the ruling. It said, "We have no hesitation in upholding the finding of the state commission that the activity of providing medical assistance for payment carried on by hospitals and members of the medical profession falls within the scope of the expression 'service' as defined in section 2(1)(o) of the act."

There are considerable differences of opinion over whether the act applies to the medical profession. Doctors claim their services are not offered as a mere commercial contract, but on the basis of implicit faith, and that COPRA applies only to traders and consumers. Y P Munjal, a heart specialist and joint secretary of the Indian Medical Association (IMA), says, "A doctor's service cannot be equated with that of a tailor's. This act makes the patient a potential litigant and destroys his or her relationship of trust with the doctor."

Doctors insist COPRA was not intended to include the medical professional and that it does not specifically mention them in the list of services under its purview. They also claim that under COPRA, doctors will be required to prove their innocence and therefore will be unduly harassed. They prefer to be covered by the Indian Medical Council Act or by the civil law of torts, which requires the prosecution to prove a doctor's culpability. Doctors hold that if COPRA is deemed to apply to them, many doctors might avoid cases that could lead to litigation. Says N S Chandra Bose, former IMA president, "Patients will suffer because doctors may refuse to attend to emergencies when the risk factor is very high." Says Munjal, before taking up cases, doctors are likely to demand more tests and investigations that will push up treatment costs.
Landmark ruling Justice Eradi takes an entirely opposite view. He says civil cases can drag on for upto 10 years and are also very expensive. Parliament provided an alternative in the shape of COPRA to facilitate justice. Decisions on cases have to be taken within three months, which can be stretched to a maximum of six months and consumers do not have to pay heavy court fees.

The ministry of food and civil supplies also intends to table a COPRA amendment bill in the forthcoming parliament session that will address some reservations raised by the health ministry. "Doctors are clearly liable under COPRA," says a joint secretary in the ministry of food and civil supplies. Ministry officials say the amendments will not only strengthen consumers' rights but will also, in all probability, bring government hospitals and doctors under the purview of the act.

Consumer activists claim the medical profession has done little to regulate itself. The Indian Medical Council and the state councils rarely haul up members for misconduct and registrations are hardly revoked. "This profession is among the most unregulated in the country," says Rama Baru of the Voluntary Health Association of India. "And there is a virtual free-market in health care."