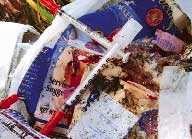 MUMBAI'S medical waste mess got further complicated after a public interest petition was filed by A M Mascarenhas of the Consumer Welfare Association, a voluntary organisation. The petition, filed with the Bombay High Court (HC), hopes that "government and authorities concerned (should) construct and install incinerators in all hospitals/nursing homes with 50 beds and above'. This demand has left both the non-governmental organisations and the government authorities dumbstruck. "We do not support the demand for incinerators as per the petition. Rather, we are working closely with the Municipal Corporation of Greater Mumbai (MCGM) to set up centralised facilities in four locations of Mumbai to treat medical waste,' says D B Boralkar, member secretary of Maharashtra Pollution Control Board (MPCB). The Guidelines for design and construction of BMW incinerators issued by the Central ollution Control Board in August 2003 also dis-couraged burn technologies like incineration.

At present Mumbai does not have a single centralised facility. One such facility, running since 2001 at GTB hospital in Sewri, was shut down by the MPCB in November 2003 after residents of the locality complained of soot and other pollutants coming out of its incin-erator. Hence, at present the entire medical waste of Mumbai is transported to Taloja facility in Navi Mumbai.

"There is no connection between the amount of waste leaving a particular hospital and the amount finally reaching the treatment facility. Infectious waste gets illegally recycled. We feel the Taloja incinerator can take the load of Mumbai's entire medical waste meant for incineration. Hence, no new incinerators need to be set up. Advanced technologies such as autoclave and hydroclave should be used,' says Deepika D'Souza of the Mumbai Medical Action Group (MMAG). The MCGM admitted in its affidavit that though Mumbai generates 10 tonnes per day (tpd) of medical waste; hardly 3-3.5 tpd gets collected.

The municipality has said it finalised three new waste transporters. But it is tight-lipped on the issue of the four centralised facilities. Its affidavit reads: "To commission new facility for disposal of biomedical waste by privateoperators is time consuming and would require at least a period of 20 months.' The MPCB, hired as project consultant by the MCGM to suggest and select centralised facility operators, claims it has already selected SMSL Water Grace Ltd for constructing four such facilities in Mumbai. In its affidavit, the MPCB has asked the HC to direct the municipality to provide these "integrated common facilities within a period of two months'.

The confusion does not end here. MMAG alleges that one operator for all the four facilities will create a monopoly. Already other facilities of SMSL Water Grace Ltd elsewhere in Maharashtra are not meeting emission norms. Environmentalists claim that a HC judgement in favour of Mascarenhas would be the last nail into the coffin.