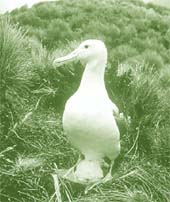 according to a new report released by BirdLife International, a global wildlife group, one in eight of the world's bird species faces extinction in the next millennium because of damage to the environment. BirdLife International, representing 2.2 million people in 105 countries, said that 1,200 bird species could become extinct in the next 100 years, with 600 to 900 more on the verge of joining the list.

Countries with the most birds at risk are Brazil with 111 species, Indonesia (92), China (82), Colombia (81), Peru (79) and India (70), it said. The highest densities of threatened species occur in the Philippines, where 69 birds face extinction. The report was released at a recent meeting of more than 450 conservationists from BirdLife's 66 partner organisations held in Genting Highlands, 50 km from Malaysia's capital. "The prospect of one in eight of our birds disappearing forever is unthinkable,' Queen Noor of Jordan, honorary BirdLife president, said in a statement. "But these figures are the signs of an even greater tragedy. Environmental degradation is now having a very real effect on the lives of millions of people, especially the poor and disadvantaged.'

Most birds are threatened by deforestation, burning of vegetation, commercial logging, subsistence farming, plantations, arable farming and mining, said BirdLife. A total of 185 species face a high risk of extinction in the next 10 years. Most threatened species live in forests. But populations of common countryside birds such as swallows and skylarks in Europe have declined by up to 50 per cent in 30 years. BirdLife has launched a plan of action to work with governments to improve ways of exploiting natural resources, identify and protect conservation sites and raise people's awareness.