Natural jeans, clean gasoline and organic cures
Natural jeans, clean gasoline and organic cures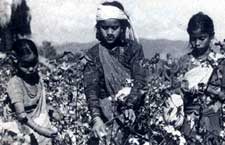 • Pesticides manufacturer Monsanto is testing genetically-engineered cotton resistant to the deadly bellworm. The cotton contains genes from a natural ly-occurri ng bacterium called Bacillus thuringiensis which kills the bollworm.

• Hundreds of wind turbines produced by the Japanese corporation, Mitsubishi, are now being used on one of the largest windfarms in the world in Telachapi near Los Angeles. Run by the Southern California Edison Electrical Company, this wind farm meets the needs of about half a million residents.

• Plant extracts have been prepared by the British biotech firm, Biotics, for pharmaceutical manufacturers, Smith-Kline Beecham, and the British Technologv Group, from plants that ha%e been prospected in Malavsia. Ghana and Latin America.

• US drug manufacturer Merck has signed a US Si-million agreement with the Costa Rican Nanonal Biodiversity Institute to fund bio-prospecting and conservation efforts over two years. The company gets the right to screen collected samples for potential medicine derivatives. Royalties from any drug that Merck develops in future will fund further conservation.

• An anti-bacterial agent is being developed from a compoilrid found on frog's skin by Magainin Pharmaceuticals of Plymouth Meeting in Pennsylvania. Xenova located in Slough, England, is screening rainforest organisms for their ability to fight cancer and heart disease.

• The Netherland's Shell Oil now markets a cleaner burning gasoline, SU2000E, in 10 smog-ridden US cities. Since this contains an oxy- genate, it burns more completely and reduces carbon monoxide and other pollutants.

• In USA, Levis Strauss are marketing "Levi Naturals", a line of jeans that are made from naturally-coloured cotton, omitting the extremely energy-intensive dyeing process.

• Dutch DSM Agro and NV GTI Holding have developed a process that will reduce the noxious ammonia emissions, which cause acid rain, from bovine faeces left on grazing lands. These faeces are mixed with a chemical that converts the ammonia to a nonvolatile form and used as a fertil,'Iser.

• Italian corporation ENI ecovers an effluent - methyl t(rtiary butyl ether - from its production process and then uses it to produce lead-free gasoline.

• ITT Flygt has built a 110-megawlatt turbine in Stockholm, which is driven by treated warm water from a nearby Henrijsdal sewage plant.